Discover and play
Raid the ultimate gaming database with more than 120,000 games, discover AAAs to the next big indie.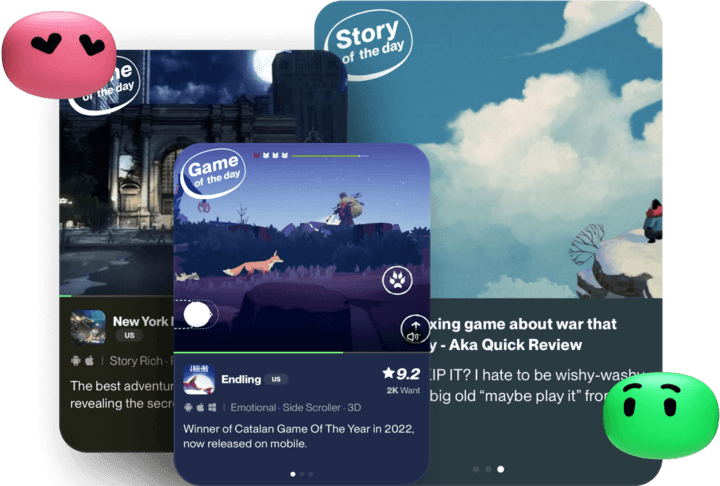 Track and curate
Keep track of new and upcoming games to play and explore game collections to inspire your next session.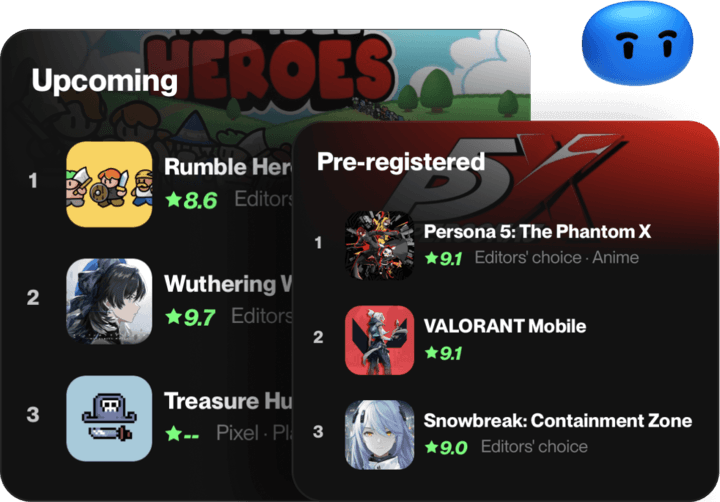 Reviews and discussions
Leave your thoughts and be inspired by discussions with like-minded gamers and over 60,000 developers.
Frequently asked questions
What is TapTap?
TapTap is a source for finding new games, from upcoming games to hidden gems, and gaming content such as reviews, guides, and discussions.
Gamers like you can provide content and leave reviews for any game within our library of 120,000+ games.
Is TapTap safe, is TapTap a virus?
Short answer: No we are not a virus. Yes we are safe.
Long answer: Our vision from day 1 has been to support game developers and the games industry. Our original app featured the ability to download games while taking a 0% revenue share from developers compared to the 30% of the App Store & Play Store. Due to being an alternative digital storefront, our app was originally only available for Android via a direct APK installation. With side-loading apps carrying a potential risk for viruses, it is natural for gamers to do their due diligence and confirm that we are indeed safe.
Which version of TapTap should I download?
Every version of TapTap features the same library of 120,000+ games and access to the TapTap gaming community. If you want the additional feature of being able to download games directly via our app - you must install the full version of TapTap, exclusive to Android devices.
Are there any benefits to having the 'full' version of TapTap on Android?
Download mobile games directly from the game page with certain games available exclusively on TapTap.
Access to exclusive beta tests. Support your favorite game devs. We do not charge a service fee for developers on games purchased through TapTap - compared to the App Store & Play Store taking 30% per purchase. See this wonderful source-worthy Wikipedia article for more:
Epic Games v. Apple
Can I download games via TapTap?
No, unless you download and install the full version of TapTap available only on Android devices.
Can I upload my own games to TapTap?
As a game developer, you absolutely can. Please give us a shoutout at [email protected] and we'll be happy to get you started and help you find your next audience.
What does 'dev live' mean?
Dev live means that the developer for the game is active, posting content, and is looking to hear feedback from you! Think of it as a 'verified' status for game devs.
Is there customer support for TapTap?
Yes and we're happy to help. Please email [email protected].
Can I review games on TapTap?
Yes - as a community of gamers we highly encourage you to leave a review of your favorite games. While other platforms may feature reviews from all walks of life, you will find reviews on TapTap to be very gamer-centric.
How is the TapTap review score calculated?
The scores on TapTap are purely based on your feedback. While we highly encourage checking out established media for a professional opinion, you'll find that scores on TapTap accurately mirror what the gaming community has to say.
Scores on TapTap are updated constantly. The moment a new review is uploaded, our 'fancy tech words' will update the score immediately.