Rotaeno Review: A Rotation Revolution
We've all had a beat stuck in our heads that stayed with us the entire day. At best, we forgot it after a few hours without annoying too many people with our incessant humming, and at worst, we got caught busting a move right when we thought no one was looking! It's no wonder that this human behavior was captured and turned into a genre of entertainment known as rhythm games.
With the success of titles like
Dance Dance Revolution
,
Guitar Hero
, and
Rock Band
, it was only a matter of time until rhythm games found a home on the mobile device. With the release of
Rotaeno
, we see a revolutionary mechanic introduced to an already popular genre with a set standard of gameplay. I was amped to shake, rattle, and rotate in ways I'd never imagined before.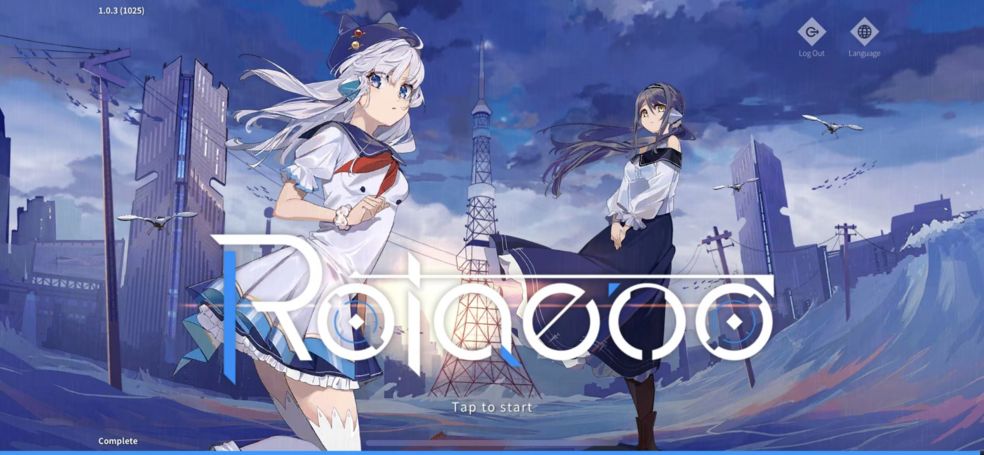 Developed by Dream Engine Games,
Rotaeno
utilizes the gyroscope—that thing that lets your phone know whether it's upside down so it can flip the screen—in a unique manner. Whereas many mobile rhythmic games simply fall into a barrage of thumb tapping.
Rotaeno
fully uses your phone's capability to twist, tilt, and angle your phone to capture SICK BEATS! So the obvious question becomes, does this new control scheme actually work?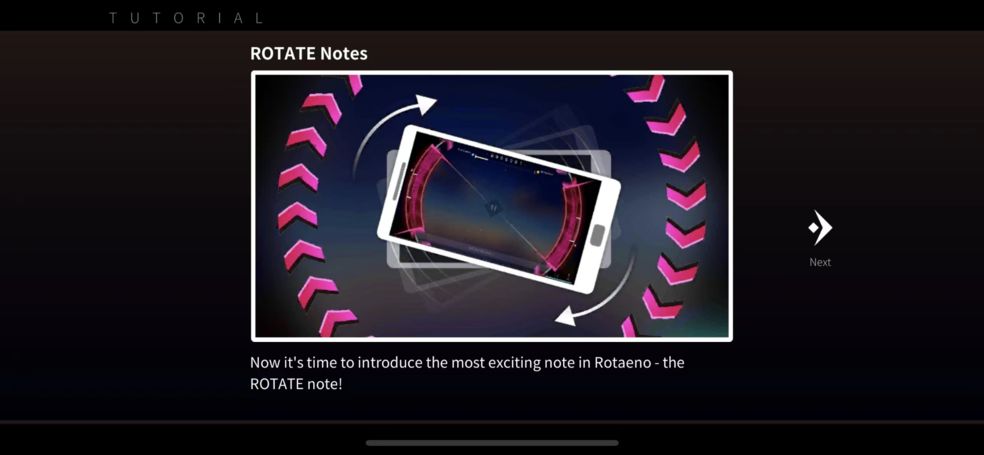 I would say yes! Not only are the rotation controls incredibly responsive, but I found myself getting into the gameplay a lot more by incorporating more than just my fingers. Rhythm games can be notoriously challenging for those clearly lacking in rhythm (obviously), those who are older, and those who simply don't have the muscle memory required to excel at these games. But when I first started
Rotaeno
, I was greeted by a nice tutorial that held my hand through an explanation of the gameplay mechanics, which could be pretty overwhelming otherwise.
To progress in
Rotaeno
, you have to angle your phone and tap the notes in just the right fashion to clear a song. The phone will stay centered no matter what. I used my body, particularly my arms, to maneuver and "catch" a note.
Rotaeno
throws out plenty of notes that require more traditional rhythm game taps or holds, but the most fun for me were the rotate notes.
These notes require you to move your phone clockwise and counterclockwise. At first, I thought I had to rotate my entire body to catch the note, but after a dizzy spell, I realized I could simply turn my wrist like a steering wheel left or right, and the rotate notes would be caught. It's a good thing because I nearly dropped my phone in all of the excitement. Of course, with the addition of rotate notes, the traditional tap and hold notes become harder to execute, and when you increase the difficulty level, new notes such as "flick notes" are unlocked, upping the ante even further. These layered mechanical challenges are what make
Rotaeno
all the more fun and engaging through its multiple difficulties.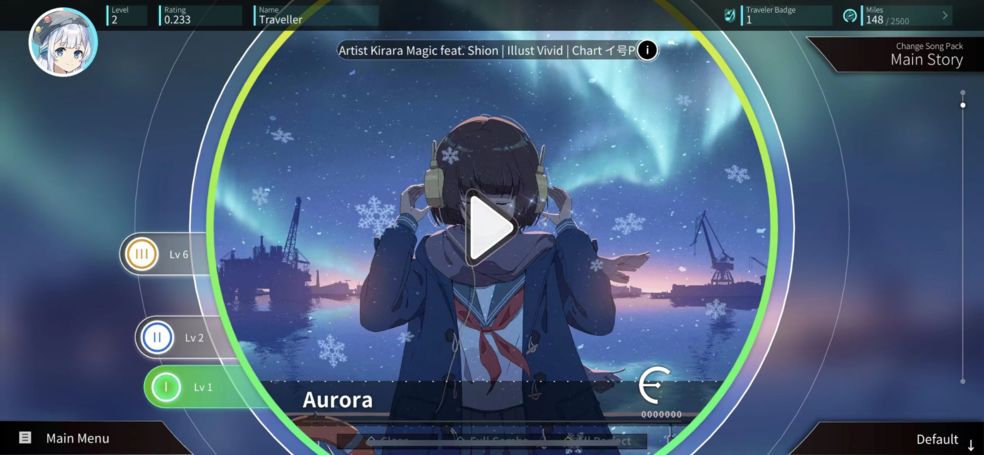 Besides the sheer joy of clearing a track,
Rotaeno
awards players with traveler badges, experience points, and miles after passing a song. Traveler badges are used to unlock new songs, and this is where I found
Rotaeno
takes it up a notch compared to most other rhythm games by incorporating a narrative into its gameplay. Sure, some other rhythm games have a basic story, but I wasn't expecting much depth here. However, at level 10, the narrative-driven Journey Mode is unlocked.
Rotaeno
follows Ilot, a girl who hates school and lives on a planet where it never stops raining. Because of this inclement weather, the residents of Aquaria must keep moving to higher ground. You may be wondering just what the hell this setup could possibly have to do with a rhythm game?! But surprisingly, it works! The narrative brings added context to songs such as "After Rain." It's a nice bit of background for those looking for more than songs to jam to, and quick play is available for those who just want to kill some time.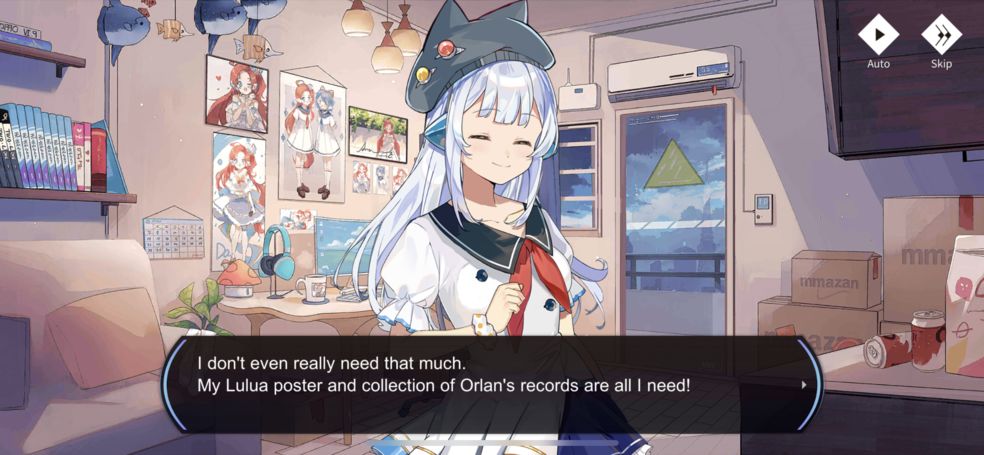 Of course, one big selling point for any rhythm game is the music. Half the reason
Rock Band
and
Guitar Hero
are so famous is because of their renowned track listings and coverage of songs. Admittedly,
Rotaeno
goes HEAVY on the J-pop, and though other genres of music are offered, I had no idea who any of these artists were. Nevertheless, for $2.99, you get a pretty decent number of songs that showcase different artists and styles, and there's always the opportunity to buy more song packs from the in-game store. New songs are currently released every month, so
Rotaeno
is really looking to expand its library; I hope they manage to get some more well-known artists in Western markets. That would absolutely take this game to the next level.
I had a lot of fun playing
Rotaeno
. It's great to see developers utilizing resources on new tools, such as this game's incorporation of the gyroscope, to have fun and expand the market instead of sticking with a formula they know works. If you love rhythm games, you owe it to yourself to check out this unique title.
•
Parappa the Rapper
. This PS1 classic really set the tone for rhythm games as a genre, so if you were a fan of that rapping dog, it might be fun to see how this genre has evolved into games like
Rotaeno
.
• J-pop. If you can't get enough of this genre or if you like finding music that's not necessarily in the mainstream but evokes a feeling, you might get a kick out of some of the tracks
Rotaeno
pushes your way.