Sports Games Go Head-to-Head: Comparing Mobile's Biggest Soccer and Basketball Games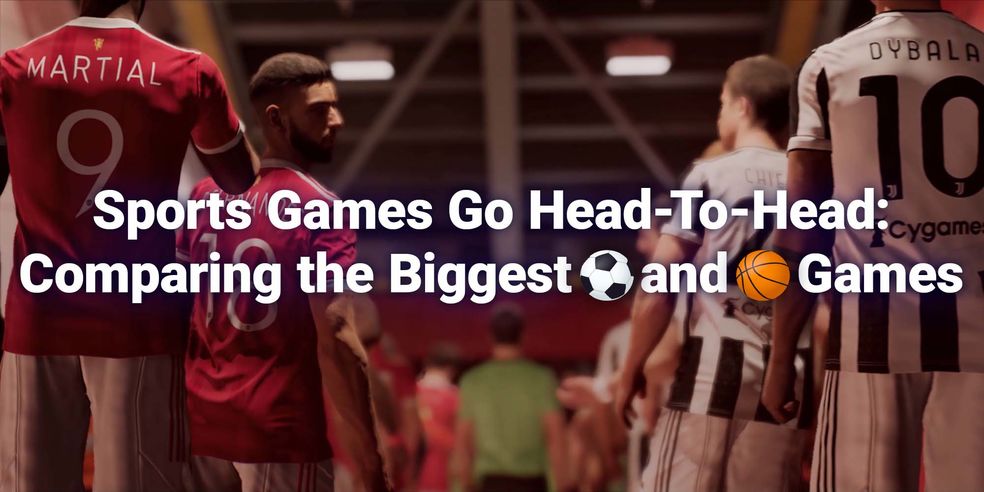 Why are we, as humans, drawn to sports? It could be the drama, the little storylines that naturally build over the course of seasons, as teams rise and fall, and as players debut, become legends, get traded, and build a legacy. Or maybe it's the intensity—the nail-biting, heart-pounding to the final buzzer, those moments on the edge where a game could tip in the favor of either team, and the winner will be decided by a measure of seconds.
Each of these elements helps pull us in, but for our money, the real pull of sports is competition. Whether it's a solo sport, a one-on-one match-up, or a team sport, the contest between two opponents of equally impressive skill levels is fascinating to watch and, at its best, nigh-impossible to avoid getting drawn in by. That's why we can build such strong associations with sports teams that last even when we've never actually played for them ourselves, even when players rotate out, and yes, even when they keep losing over and over, season after season.
With that in mind, what better way to honor the sports genre of games than with a competition? For this week's collection, rather than just listing a few of our favorite sports titles, we put the two biggest soccer mobile games and the two biggest basketball mobile games head-to-head against each other. Which one is more worthy of your time, attention, and money? Read on to find out!
Let us know your favorite sports games in the comments, as well as which types of sports games you'd like to see TapTap cover more in the future!

17669
48734
• FIFA Soccer vs. eFootball 2022 |
@JB
Before I get into the comparisons proper, it must be stated that both of these titles commit a rather egregious faux pas: Please don't make me play tutorials before I can actually, you know, play a "real" game. With a sports title I typically just want to jump in, start playing, and learn the controls on the fly. That's half the fun in my book—to let the computer AI beat the snot out of me for a few matches while I'm actually learning to play the game itself. If the devs want to include tutorial options and drills as part of a larger story mode, or instructional videos that I can tackle at my leisure...fine, but DO NOT force me to jump through these hoops before I can do anything else.
As I recall, the older console versions never forced you to play tutorials before you could jump into an actual match, but these mobile versions do because they are all tied into accruing tchotchkes which fuel the mobile game economy. This microtransaction/games-as-a-service nonsense takes a good deal of the fun out of these games for me. That said, for the purposes of this comparison, I'm going to focus mainly on how the games play, shying away from the mobile bells and whistles unless they are truly significant.
From my perspective, playing through
FIFA Soccer
is a satisfying experience. As a long-standing fan (but not a super fan) of the franchise, seeing this kind of positive progression is really quite refreshing. There's obviously the argument of how the build-up to a new edition of FIFA Soccer (or any FIFA game for that matter) is always exciting, but genuinely, this time the game keeps pace with the hype. The advancement in graphics and realistic features (especially the in-game commentary here) also helps this title to nudge ahead of its competitor.
The touch controls are nicely implemented and overall feel tighter here than in eFootball as I was pulling off more complicated moves (one-time strikes, crossing headers, etc.) with relative ease, resulting in many highlight-worthy goals. Also, there seems to be real effort in maximizing the flow of the game, so it is definitely worth lacing up those virtual boots and hitting the pitch for a good run just to experience that rush up field.
There are differences though from previous iterations: The market is different, training of players is different, the graphics are different, and the currencies are different. These aren't negatives, mind you; they're just notable because EA could do nothing but upgrade the rosters, as they've done in the past, and this game would still be massive. It's nice to see that real effort has gone into making FIFA Soccer an innovative experience.
So
eFootball 2022
truly
stumbled out of the gate
during its console release late last year. Did Konami fix all the issues for this mobile version? Yes, I would say so, but as this game is newer (released on June 2 compared to FIFA's January 18 launch) than FIFA it does still have some kinks to iron out (i.e., shoulder charge and pass-and-run crossover moves are still missing). Season Two of eFootball is slated to come on June 16 though, so hopefully these issues should be addressed by then.
What eFootball does better right out of the gate is get you to playing actual matches quicker than FIFA. There is still a forced tutorial here, but it is nowhere near as long as FIFA's. Also, it doesn't appear to have as many silly "timed" unlockables or loot boxes. Huzzah for that.
eFootball's main drawback is that it doesn't have the same feel or level of control as FIFA Soccer, and that's crucial in a fast-action sports title. Not that eFootball is terrible by any means, but I found this shortcoming most unexpected, seeing as I was a PES/Winning Eleven early-aughts old-head, back when those iterations outstripped the FIFA games by a mile in terms of gameplay "feel" alone. The FIFAs of that era always felt too arcade-y and didn't offer the realistic challenge of the PES titles, but they managed to beat Konami's franchise in terms of graphics, presentation, and licensed teams, and that still holds true with the current mobile versions as well.
Honestly, it just comes down to preference, really, as both eFootball 2022 and FIFA Soccer are quality sports games. I'm just rather surprised that my preferences have changed in this matter. It has been said (mostly in reference to one's culinary palate) that your tastes change with age—it seems that mine have as well...at least until
Sensible Soccer
makes its triumphant return!
136747
23356
• NBA 2K Mobile Basketball vs. NBA Live Mobile Basketball |
@Aaron Jacobs
'Tis the season to get DUNKED ON! We're smack dab in the middle of the NBA 2022 finals, and everyone's trying to feed their basketball jones. So what better time to test out the two biggest mobile basketball titles,
NBA 2K Mobile Basketball
and
NBA Live Mobile Basketball
, and answer the age-old question of "who got game?"

Both of these games have been on the market for a while. NBA Live was developed by Electronic Arts and released in 2016. NBA 2K was developed by Cat Daddy Games and released in 2018, respectively. These titles have developed cult-like followings among fans. Each camp has dedicated devotees who will swear by one brand or the other.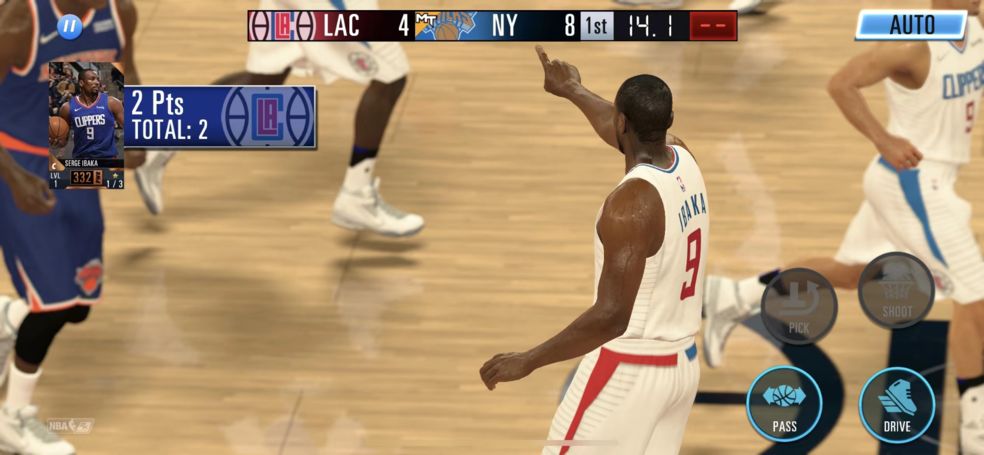 Starting with the gameplay, both titles open with some funky-ass music to get you into the zone and immediately start off with your basic tutorial that indoctrinates the player into the world of basketball. I'm going to give points to NBA 2K for this one. Although both offer roughly the same basic tutorial setup, the showmanship is so much better with NBA 2K. They have his Royal Airness Michael Jordan providing the in-game tutorials! Compared with this, NBA Live has generic text instructions.
Another big difference is that NBA 2K offers controller support while NBA Live does not. Using a controller makes ball handling and getting past defensive players so much easier, so I had more fun playing basketball on NBA 2K. I'm an RPG geek, so I also liked that I could add gear to boost my player's stats, like putting on Stephen Curry's shoes to increase midrange shooting.
NBA 2K also takes the upper hand when it comes to graphics. It even lets you create your own baller and assign them to different crews. Cat Daddy ups the social element of its game by including a global chat function where I could trash talk and read what other players around the world were talking about.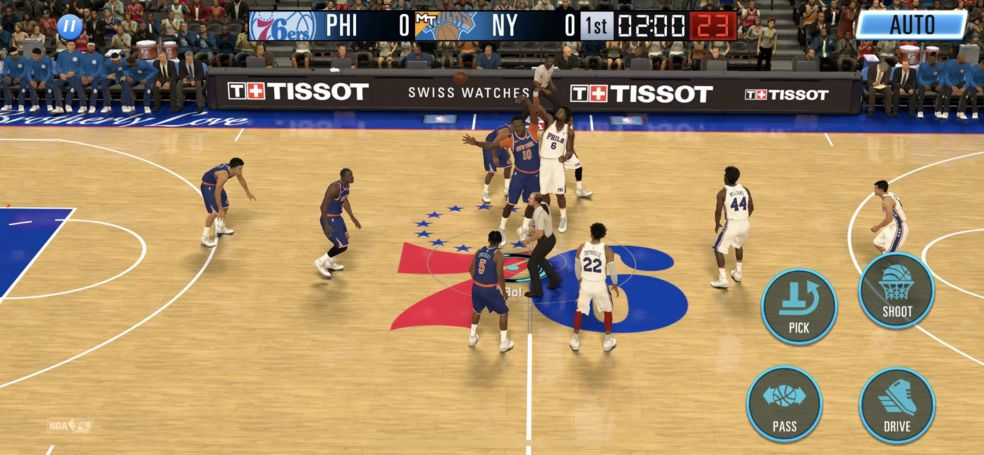 I know I'm giving 2K a lot of love here, but part of making these comparisons means I need to start the game and get into the action quickly! I appreciate how NBA 2K let me start the season mode immediately. In contrast, NBA Live made me wait until I was level 3 to begin a season. What's the point in that?!
I will say, however, that it's not all gravy on the NBA 2K side. The game itself took up much more space on my phone than NBA Live, and after going through comments of the game on
TapTap
, it looks like lots of people had problems downloading 2K. This probably means the game itself isn't compatible with older models of phones.
A lot of the joy in these games is building your team and incorporating different players into your roster. I was more excited by NBA Live and its starter packs than NBA 2K. Arguably, Lebron James, AKA King James, is the face of the NBA right now, and he is available in the NBA Live featured starter pack, alongside Steph Curry, Yao Ming, and additional in-game cash and coin options. All that for $30 bucks is a pretty solid start!
Comparatively, the present 2K featured pack offers a pool of star players that I have only a possibility of getting, no guarantees. If I'm going to spend money, I would like to know who I'm getting, as opposed to randomized packs!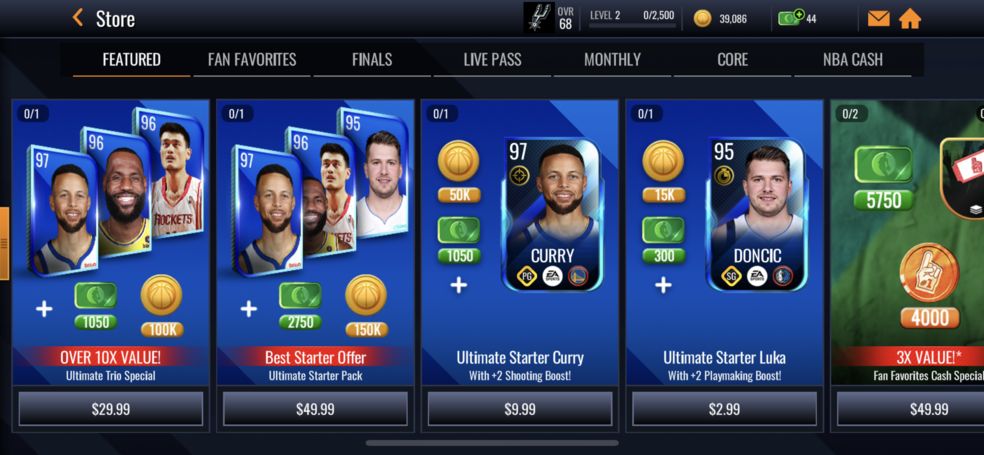 Another cool feature in NBA Live is the auction house. Here you can use coins to bid on players to build your roster and auction off players that you've collected. This adds a whole new element to community, collection, and roster building. The thing is...auctions only unlock at level 15! I have no idea why EA Sports decided to do this, but I assume it might have something to do with preventing fake accounts and coin sellers from joining the game. Nevertheless, I once again had to wait to do something cool, which added to my frustration when playing NBA Live.
The battle between NBA Live and NBA 2K is ongoing and will probably never be decided for everyone. The balance shifts with each game's update, making one or the other cooler for a season. NBA 2K offers great gameplay, graphics, and controller support. At the same time, NBA Live has a fantastic system for building up your team with your favorite players. As a guy that just wanted to play basketball and not invest a lot of time, NBA 2K was the better experience. But if I wanted to keep a basketball game on my phone for a prolonged period, I'd probably go with NBA Live. Nevertheless, we're talking about mobile devices where I'm expecting faster action and a quick high. The fact that NBA 2K gets me into the action right away, has RPG-esque gear to boost my players, and offers a cooler gaming experience makes all the difference.
💬 Do our picks for soccer and basketball games match yours? Let us know your preferences and what other sports games you can't get enough of in the comments!