NBA 2K on the go
I really long review on this games, because i love NBA games. And it's blows my mine that the games is good, but they has hit or miss on it. Let's check it out, boys!.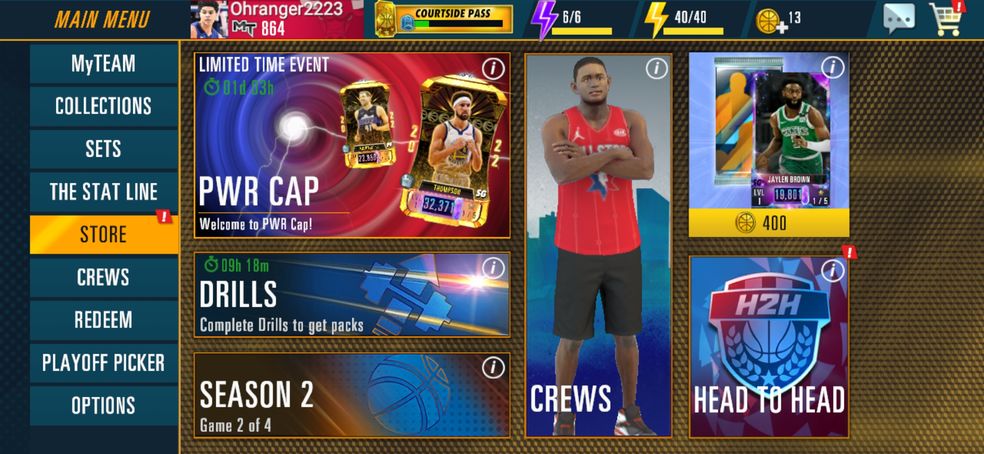 The game utilizes using NBA 2K engine from the console or pc counterpart. The game has a NBA teams, when your pick your favorite team one at the time. You can also custom the squad, which more players get, the more increase pwr teams.
This game has variations modes with the gameplay are similar to NBA 2K counterpart. They are event mode, which basically a ranked mode against player, which basically get more points to get special item. This mode are yeah it's not garbage, but it's fun. But, the ai are from Name of player. They also a drills, this is basically training modes, with using point you get. The more point your get, the more get a rank. If you get Rank A respectively, you get a special item.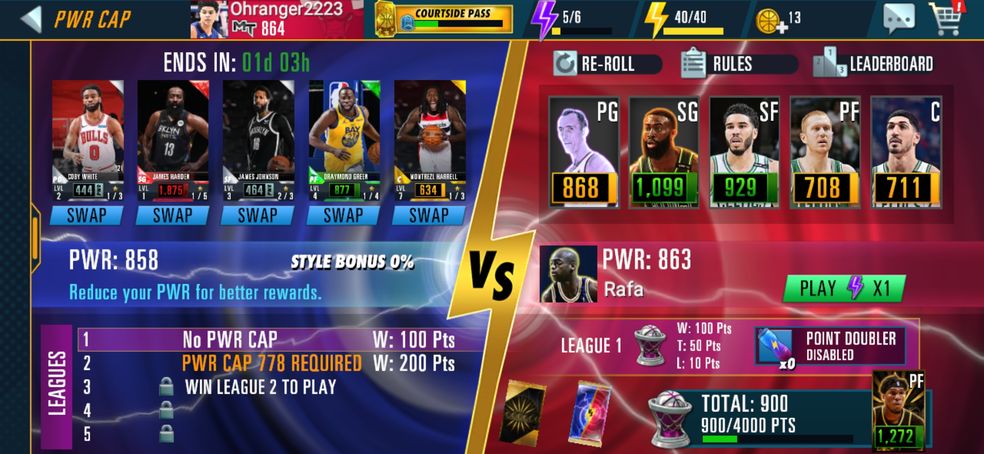 There also a season mode, which basically campaign mode. If you get complete all this campaign mode with each season, you get bonus item for you. The Head to head mode which was PVP mode, it's really fun, however the stadium was empty, and I really supposed this is for Training modes, not for PVP. You get more fans points by winning against player, if you lose, your lose points.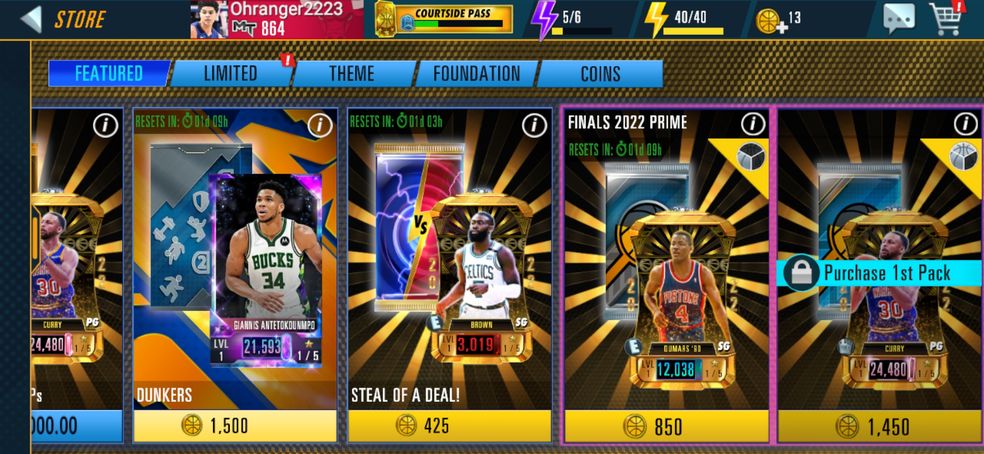 The store are basically players, you get coins by earn the daily points or by you pay a real money. You can ignore by your completing the level and you get earn Draft pick. This is great by draft pack, you get players. If you lucky get more players, you get a points presented a rewards. But, if you don't lucky get players, you just want to upgrade the player, sure, by finds the upgrade collectibles. The more collectible you get, the more powerful your teams and players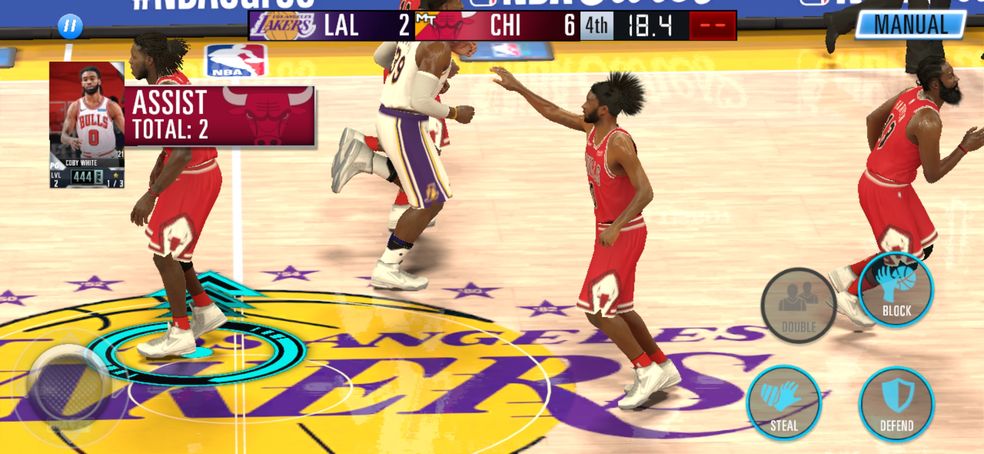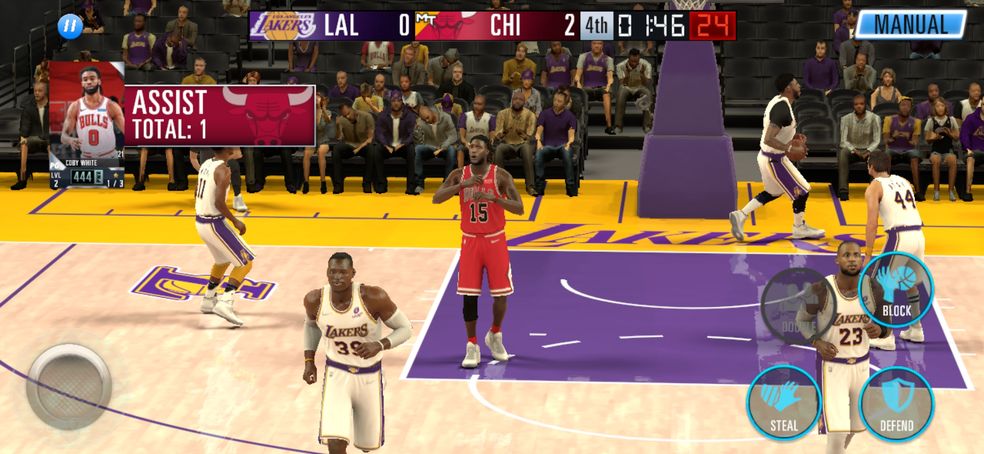 Okay, let's talk about the graphics, it's amazing, and it's similar to NBA 2K on console and pc counterpart. Look at the players, the players are sweating. This is impressive in today mobile games standard. I mean just wow. Go to the controls, the controls are okay, but feel kinda clunkyness, especially for shooting. You need shoot by a bar in the player, and when player get shooting, your goal on the net. But, if you shoot low, you miss!. I know, the shooting are lucky based. The defense are something about to NBA standards. They steal which steal your ball, but don't get reach your players, resulting was foul. The steal in PVP is broken, which many player are issues about bugs of steal the ball. The blocks is something helpful, if you get a goal, you block them and go to player to reach the net.
It sad however, the game has suffer technical issues, mostly are framerate issues. Even the games has following the requirements issues, it's still has lagging issues on here.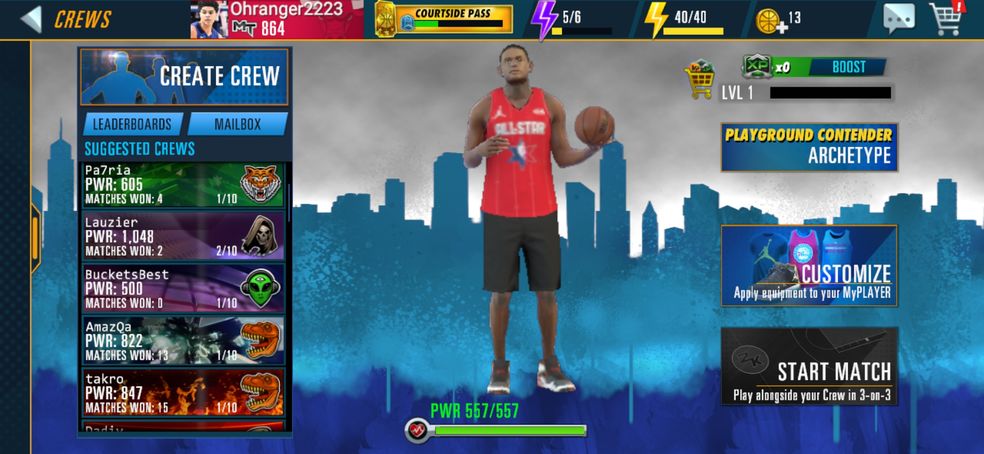 The crew is pretty unique features, it's basically 3v3 freestyle against player. It's fun, thought i wish more 3v3 or PPPvPPP. You can custom your costume which you get many power your get. The more PWR your get, the more how stronger you are.
that's my review from now on. I gave rating a 6/10. With graphics are impressive, gameplay are addicted and has variations, but to forced with performance issues, lag, and P2W schemes definitely was the hit or miss things.