How Opening The Refrigerator Can Lead to Far Worse than a Bigger Gut - Chefy-Chef Review
Alright, you caught me with my hand in the cookie jar! And if you've been following along, you may have noticed a particular trend in my recent reviews. A few weeks ago, I wrote about
evil mutant sweets
coming to life to take over the city. A few days ago, I wrote about a
ninja warrior on a quest to retrieve a mystical donut
. And today, I present to you a stalwart chef traveling to new dimensions to find the perfect ingredients for his favorite dish! I guess you can say my inner foodie is really being tested and getting a chance to shine in these reviews. But nevertheless,
Chefy-Chef
is a game I had to sample.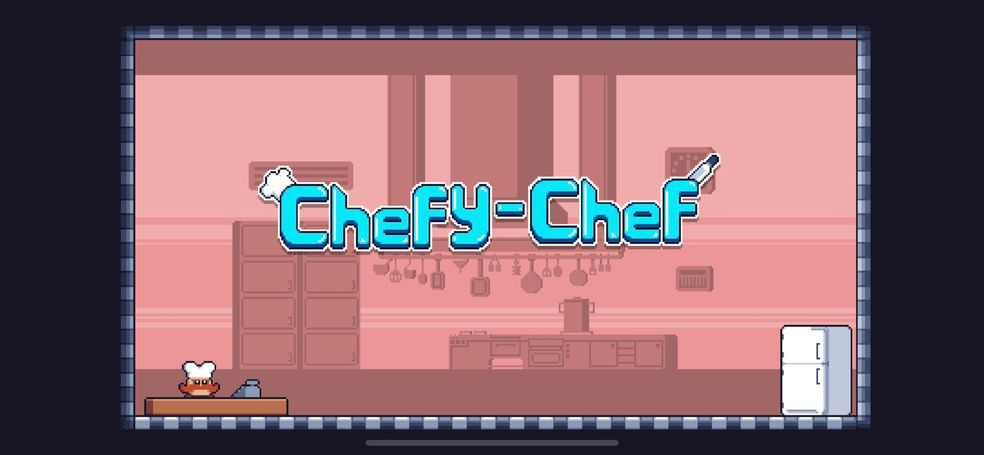 Developed by Crescent Moon Games,
Chefy-Chef
is a retro-style 2D platformer with Metroidvania elements. If you're unfamiliar with the word "Metroidvania," fear not. It's a portmanteau of
Metroid
and
Castlevania
. If you've played games in those series, you know that the levels are usually non-linear and require special items and tools to unlock doors and progress through the stages. Such is the gameplay found in
Chefy-Chef
.
In
Chefy-Chef
, the objective is to scour through stages and find three hidden ingredients. To find the ingredients, you'll often need special items to access new areas of the level. There are three of these items: the butcher knife, the chef's hammer, and the frying pan. Each contains unique properties that give Chefy new moves to progress through the environment.
Though simple in concept, I found
Chefy-Chef
to be pretty tricky. The game starts with a handy tutorial but gives room to do lots of exploration on your own. For example, I first thought the game had a
Super Mario
feel, and why not...? Mario is a plumber with a mustache, after all, and Chefy is, well...a mustached chef. So obviously, the gameplay should be similar, right?
Only, in
Chefy-Chef
, I wasn't rewarded by jumping on a foe's head. I was instead greeted with a death screen. Not only did I die numerous times, but after dying, the ingredients and tools I discovered had to be found again! I had to make sure to visit the cookbook checkpoints frequently.
Moreover, once a level was completed, special items like the knife disappeared from my inventory and had to be located all over again in new areas. Nothing was carried over from the previous level. These design choices all contributed to a challenging yet welcome gaming experience.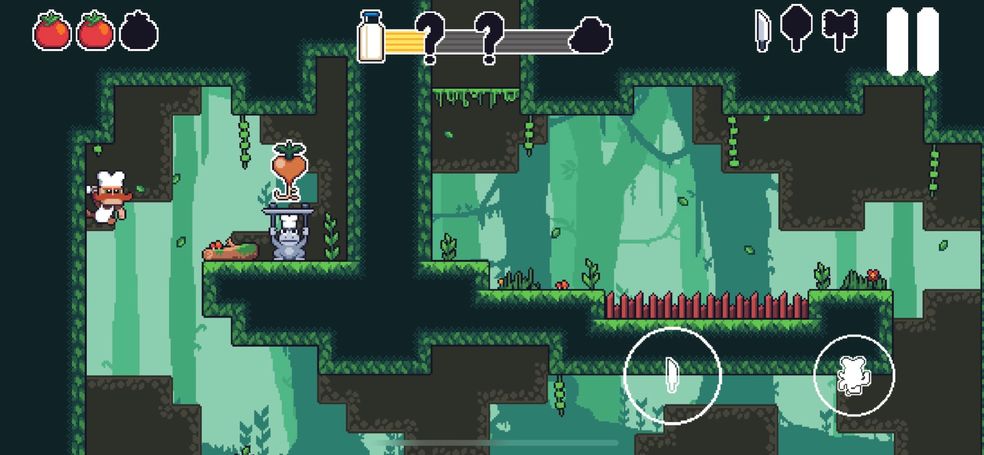 It seems pixelated artwork is all the rage these days, and in this regard,
Chefy-Chef
doesn't disappoint. The game looks great, and the artwork is really highlighted through the various customizations of clothes, uniforms, and hair color. There are three worlds to traverse in
Chefy-Chef
, each unique in style and visuals. Trekking through the jungles and seeing the detail in even the vines and how I could interact with them to find hidden hamburgers that I could use for customization was a real treat.
The narrative is straightforward but fitting for a lighthearted game such as this. Chefy is harmlessly thinking of ingredients to cook his favorite dish when he goes to the fridge but is suddenly teleported to another world! Between the art and the narrative, the tone of
Chefy-Chef
is perfectly set; it served up the ideal attitude to prepare me for this devil-may-care adventure.
Although a free-to-play version of
Chefy-Chef
exists, I paid $2 on the App Store to access all the content. For that more than fair amount, all of the game's sixty levels were available for play. It's a small price to pay for a budget platformer that delivers the artistic quality, fun gameplay, and sheer content volume that
Chefy-Chef
does. On my iOS device, the game ran pretty smoothly. There were no glitches, and it took less than 30 MB of space on my phone. There's not much more I could ask for when it comes to a budget-friendly platformer—clever, stable, and easy on the wallet!
If I had to nitpick, my only complaint would be the range of areas on offer.
Chefy-Chef's
sixty levels are divided among three worlds at twenty stages each. I would have liked to see more worlds instead of spending so long in a particular place. Variety is the spice of life, after all. You'd think a master chef like Chefy would appreciate that.
Minor criticism aside,
Chefy-Chef
is an indie delight that I enjoyed to the last bite. Download it and have a taste for yourself.
•
Castlevania
.
Speaking of Metroidvania games, if you enjoyed the classic platformer that helped spawn half of that term, then try
Chefy-Chef,
which borrows gameplay elements made popular by this series.
• Retro platformers. From
Cookies Must Die
to
Special Agent Cyberduck
, retro platformers that remind us of the good old days are the new hotness! If you enjoyed playing these games check out
Chefy-Chef
.
💬 Was
Chefy-Chef's
Metroidvania gameplay too difficult? And what is your favorite retro-style platformer? Let me know in the comment section, and we can continue the conversation!
CHECK OUT SOME OTHER RECENT REVIEWS FROM TAPTAP: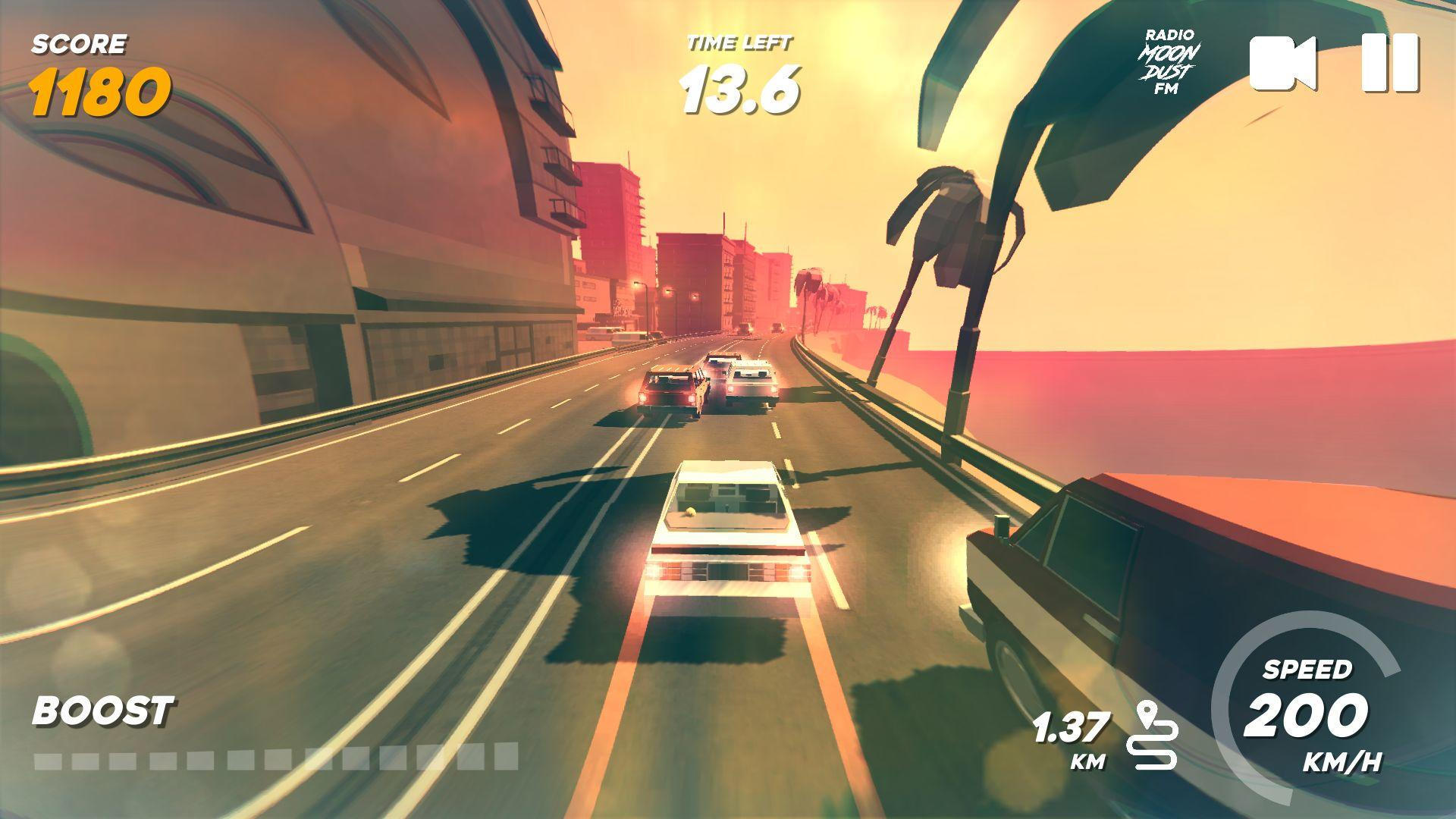 A Simple Racing Game That'll Turn You Into A Highway Speedster - Pako Highway First Impressions | TapTap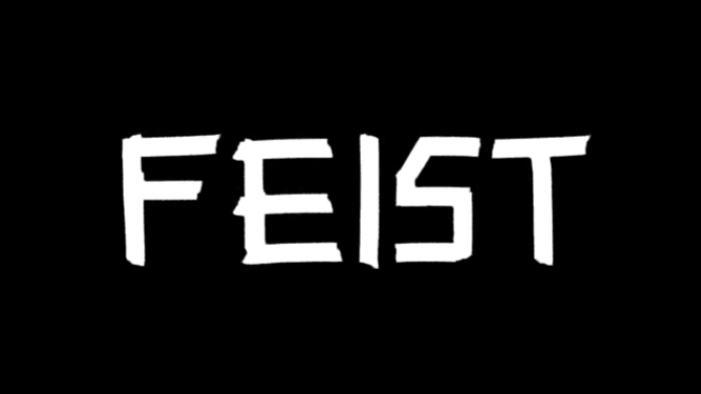 If You Like Artsy Games with Zero Hand-Holding, Then This Is a Game for You – Feist Review | TapTap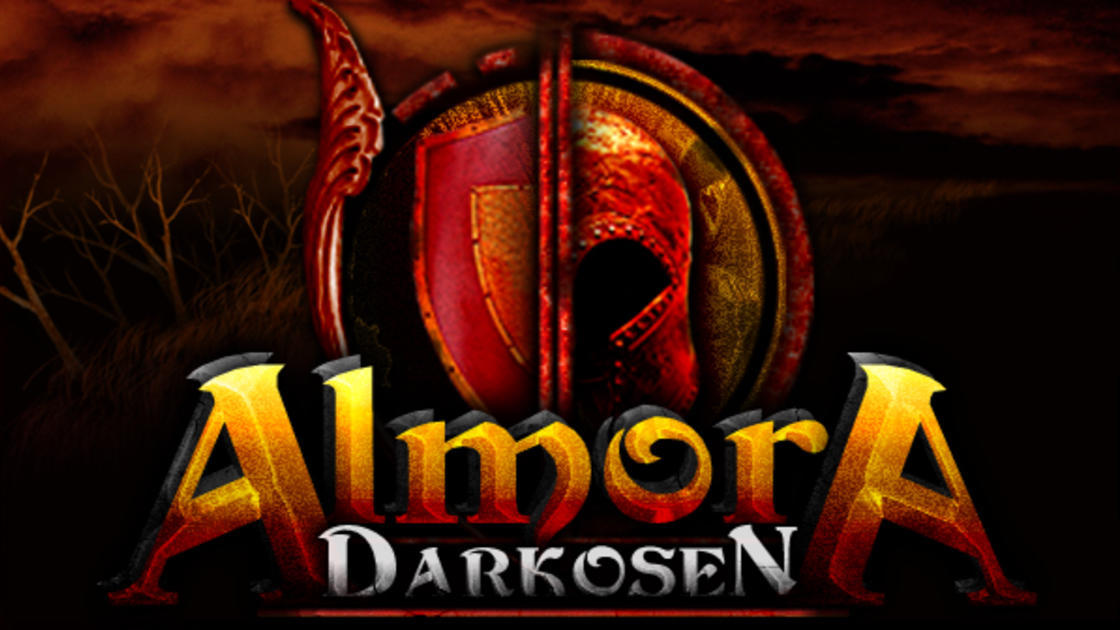 How One Man's Blood, Sweat, and Tears Led to an Indie Masterpiece - Almora Darkosen Review | TapTap