Six mobile games to play when you can't stop thinking about Vampire Survivors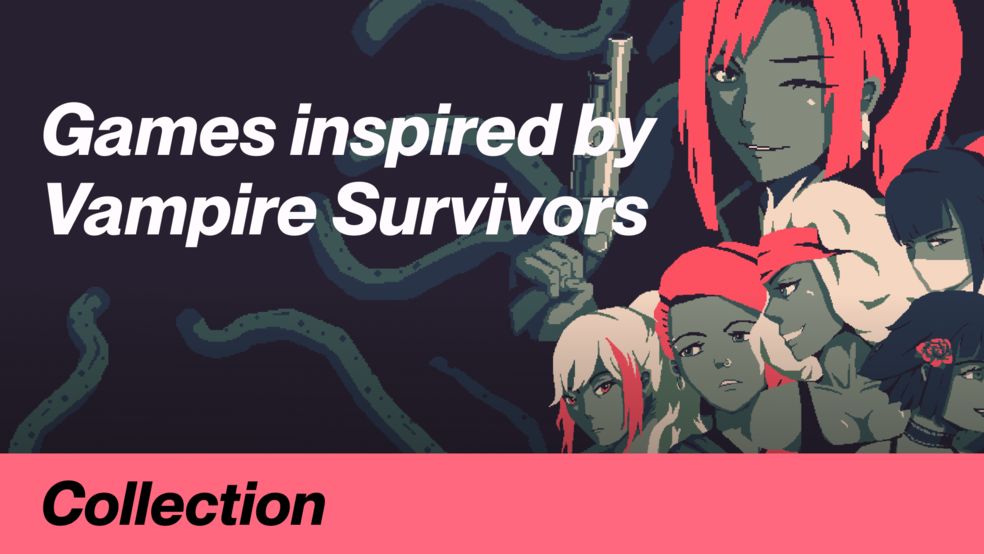 If you've been around the gaming parts of the internet over the last six months or so, there's a pretty good chance you've heard the growing buzz about a game called Vampire Survivors. From looking at it, you might not be able to tell what the buzz is about. It's got old-school pixel graphics with NES Castlevania vibes, and it was made by a single developer in just a year and with less than $1,500 spent on assets. So what's the big deal?
Well, the big deal is that Vampire Survivors is an unbelievable amount of fun. It's one of those rare games that takes a deceptively simple concept and expands on it in addictive ways that emphasize the intense, moment-to-moment fun. It's such a compelling formula that it's spawned a wave of imitators, and some are even referring to it as a new genre:
the horde game
. And on top of all that, Vampire Survivors was available on Steam for a mere $2.99 until this week, when its price raised to...a mere $4.99!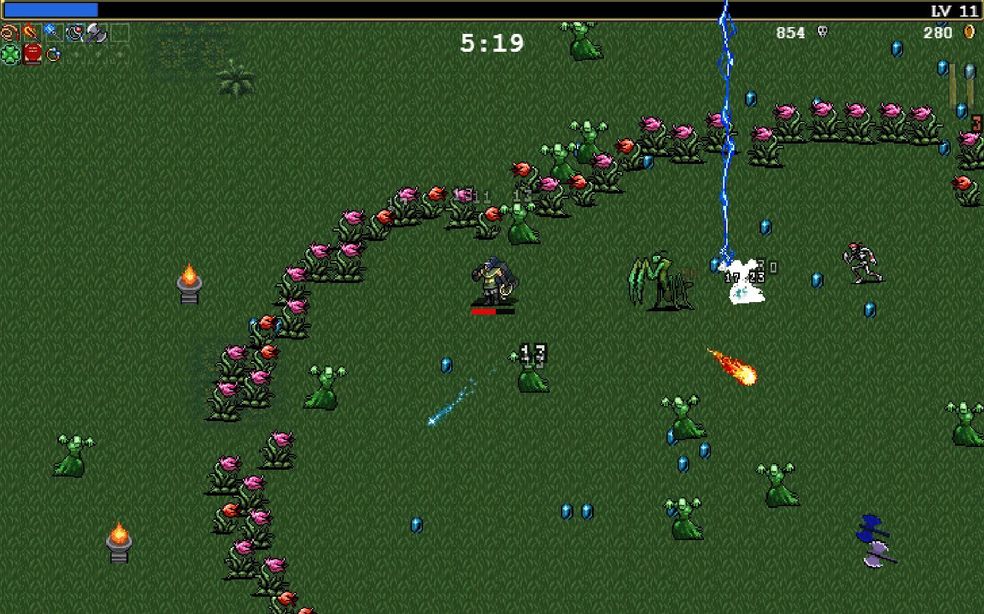 If you haven't played Vampire Survivors yourself—and for that low price, you really should give it a shot—let me explain the basic appeal. You know those super hardcore bullet hell shooter gamers where you control a tiny character sprite that has to navigate a screenful of colorful projectiles flying at you at the same time? Vampire Survivors and other horde games are sort of like the inverse of that. You're still controlling a single tiny character, and you're still up against overwhelming enemy forces, but now you are the source of the barrage of bullets (or axes, blades, fireballs, and so on).
So you start with the intense satisfaction of mowing down hundreds of enemies using frankly absurd powers. Then add on to that a dash of RPG and roguelite character development. As you survive more and more bad guys, you level up and either gain new powers or improve the powers you already have. And while you start back at level one with each run, you can spend currency between runs to unlock new characters with their own quirks or to purchase permanent power-ups that will help you survive longer next time around.
The keyboard-clenching satisfaction of this gameplay loop cannot be understated. While a single run through Vampire Survivors only lasts between ten and thirty minutes, depending on how good you are, I've managed to sink over twenty hours into the game in just the month or so that I've been playing. And that's on the shorter end of playtimes! I have friends on Steam who are nearing the hundred-hour mark, and have even seen folks online boasting over a thousand hours played—all before the game is even out of early access!
There's only one glaring problem with Vampire Survivors: It's not available in mobile form as of yet. While I could see this game easily being translated to Android and iOS devices, that's probably not something the game's sole developer will be seriously looking into in the near future. But that doesn't mean that you need to be without horde game goodness when you're away from your computer!
We're coming up on a year since Vampire Survivor launched on Steam, and in that time, dozens upon dozens of clones have popped up on Android. Many of these are very obvious and low-quality cash-grabs that either barely differentiate themselves from the original, or just clearly haven't been balanced with fun in mind. But after digging through many of the top Vampire Survivors-style games available on mobile right now, I was able to find six that I think are absolutely worth your time and attention.
Beginning with the least successful (but still solid) of the bunch, the first batch I'm highlighting here are all totally competent horde games with one major caveat: They're full to the brim with annoying mobile game microtransaction junk.
The first of this group is
Super Wizard
, a title that blends the core of Vampire Survivors with gacha elements, which is a trend we will see repeated. The most annoying part of Super Wizard by far is its overreliance on ads for monetization. Pick up a treasure chest during a run, and you'll be given two options for relics. But hey, wanna keep both options? Just watch this ad. The first time you die during a run, you'll be given the option to resurrect once and keep playing...if you just watch this ad first. Want to claim a free item chest? Spin the "Lucky Wheel" for a bonus prize? Get a boost to your offline idle earnings? Yep: ads, ads, and more ads.
237765
The only positive spin I'll give this annoying habit is that Super Wizard does allow players to purchase a pass that allows them to get all these ad-based bonuses without ever having to watch any ads. But on the other hand, that pass is a whopping $19.99 per month or $24.99 for a lifetime pass. Sure puts that five bucks for Vampire Survivors into perspective, huh?
Okay, but for real, I've got complaints, but once you get past the ads, Super Wizard is actually a pretty fantastic spin on the horde game concept. There are currently fifteen different themed stages to work through which unlock one by one, with settings ranging from a fiery volcano to a castle floating in space. Each level has unique boss encounters, and working through them will also level up your wizard and unlock new equipment, not to mention providing you with gold to purchase further power-ups on a lengthy talent tree.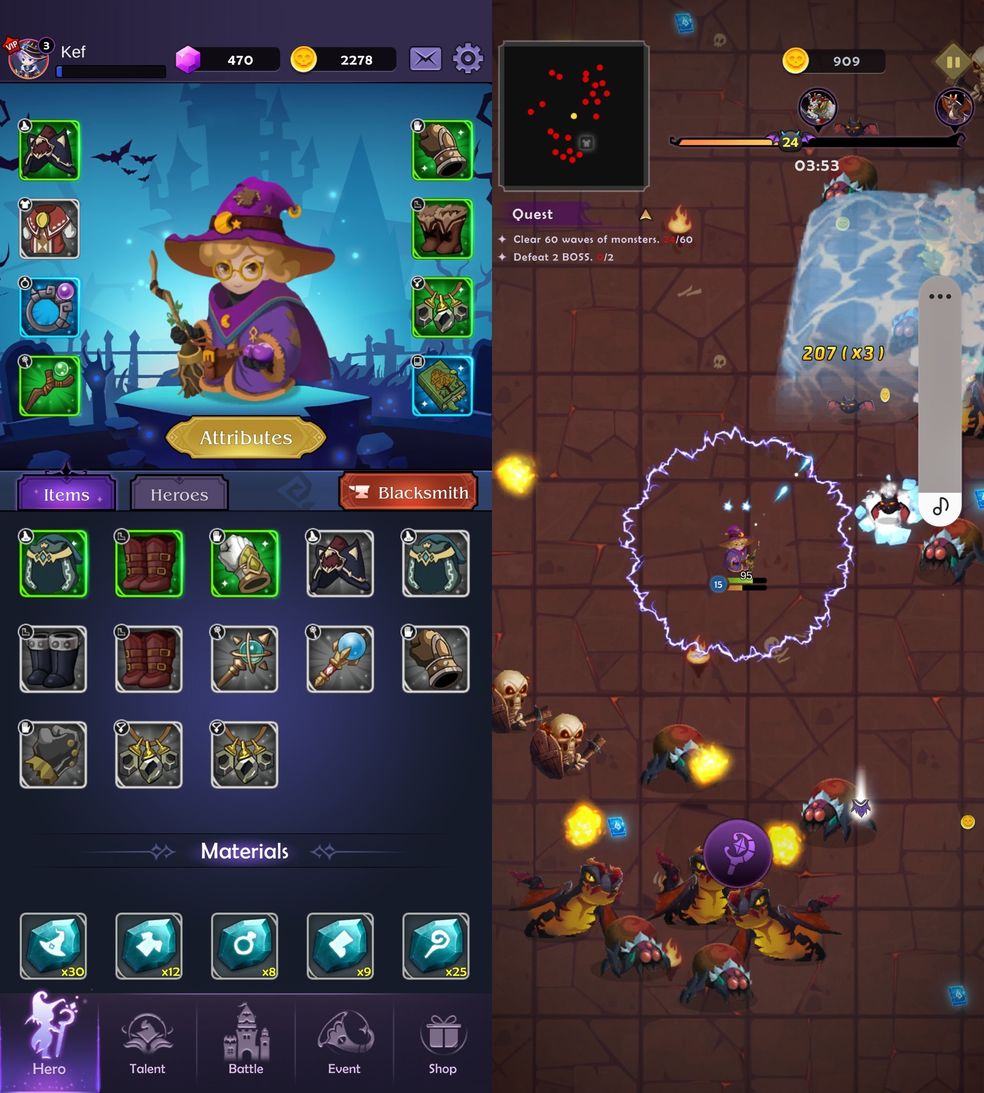 Super Wizard also features a huge amount of artifacts to collect and spells to learn during a run. The best part is that if you properly level up the right spells, you can actually create super powerful "fusion" skills that blend the properties of two abilities—for example, combining fireball with electric ring to create Fireball Barrage, a skill that constantly shoots fireballs in a circle around your character. Super Wizard has also implemented a season-based game pass system and has rotating special events, such as a survival mode and the "Endless Dungeon." Basically, if you're looking for a Vampire Survivors clone that will last you for a long time, this one will do quite well.
A similar but just slightly more subdued games-as-a-service take on Vampire Survivors is available via
Magic Dungeon
. This is probably the least polished-looking of the all the games I tested, but it has some really cool ideas, including a skill combination system similar to Super Wizard. It also leans more heavily into the gacha elements, with more than thirty potential characters to unlock by spending gems that can be purchased with real money or earned very slowly through play. On the plus side, some of those characters are really cool, such as a skeletal samurai, a cutesy character inexplicably wearing a whale outfit, and literally just a flamingo.
217076
Magic Dungeon's overall look is a little more amateurish, almost like something thrown together in RPG Maker. But once you get in, the game actually controls quite well. It also uses a clever day/night cycle where monsters spawn in greater and more aggressive numbers at night, providing a more interesting marker for progress than simply how many minutes you've survived.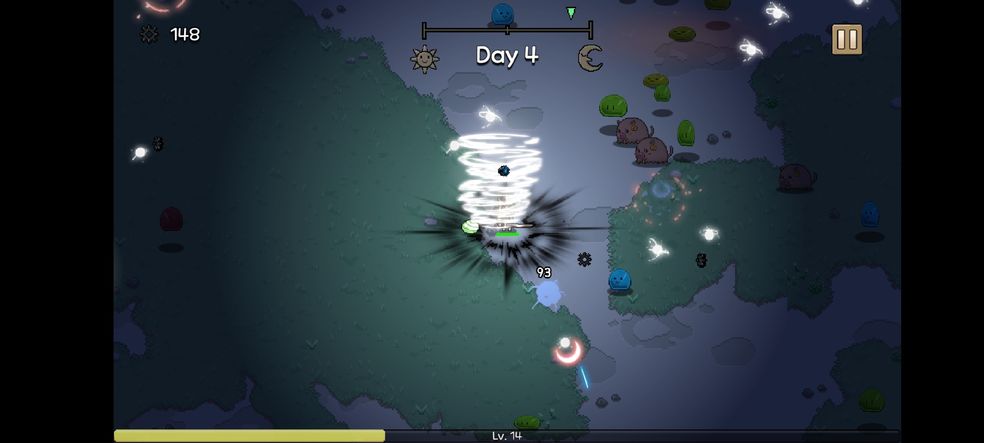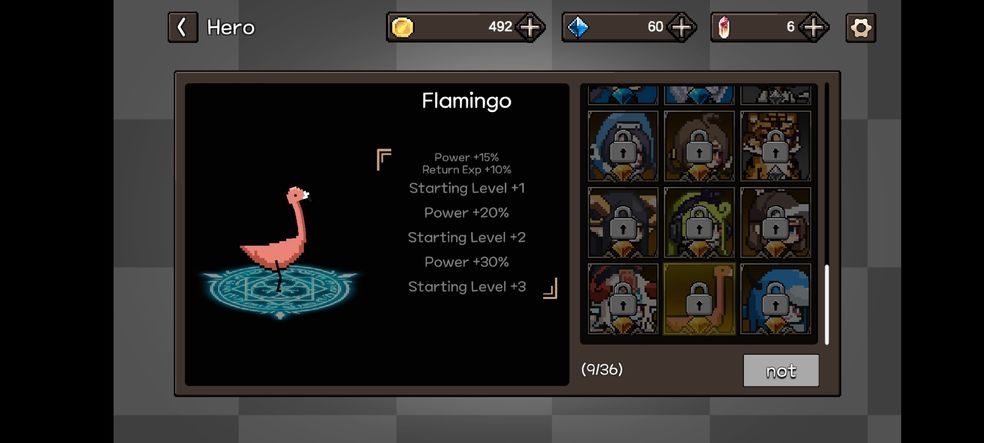 Next up and increasing in quality of presentation is
Lonely Survivor
. Though it uses ads like Super Wizard, Lonely Survivor doesn't rely on them quite as much and thus doesn't offer a way to pay to get rid of them for good. But it also offers a slightly more aesthetically pleasing art style and a frankly absurd number of powers to play with.
239137
One other great element that Lonely Survivor introduces is the ability to morph your spells into infinitely more destructive ultimate forms. If you level up a single skill to its highest point during a run and match it with a certain designated passive skill, you'll be able to access these ultimate versions. Reaching that level can really set a run apart from doomed to a complete success, as these ultimate skills can do an insane amount of screen-clearing damage.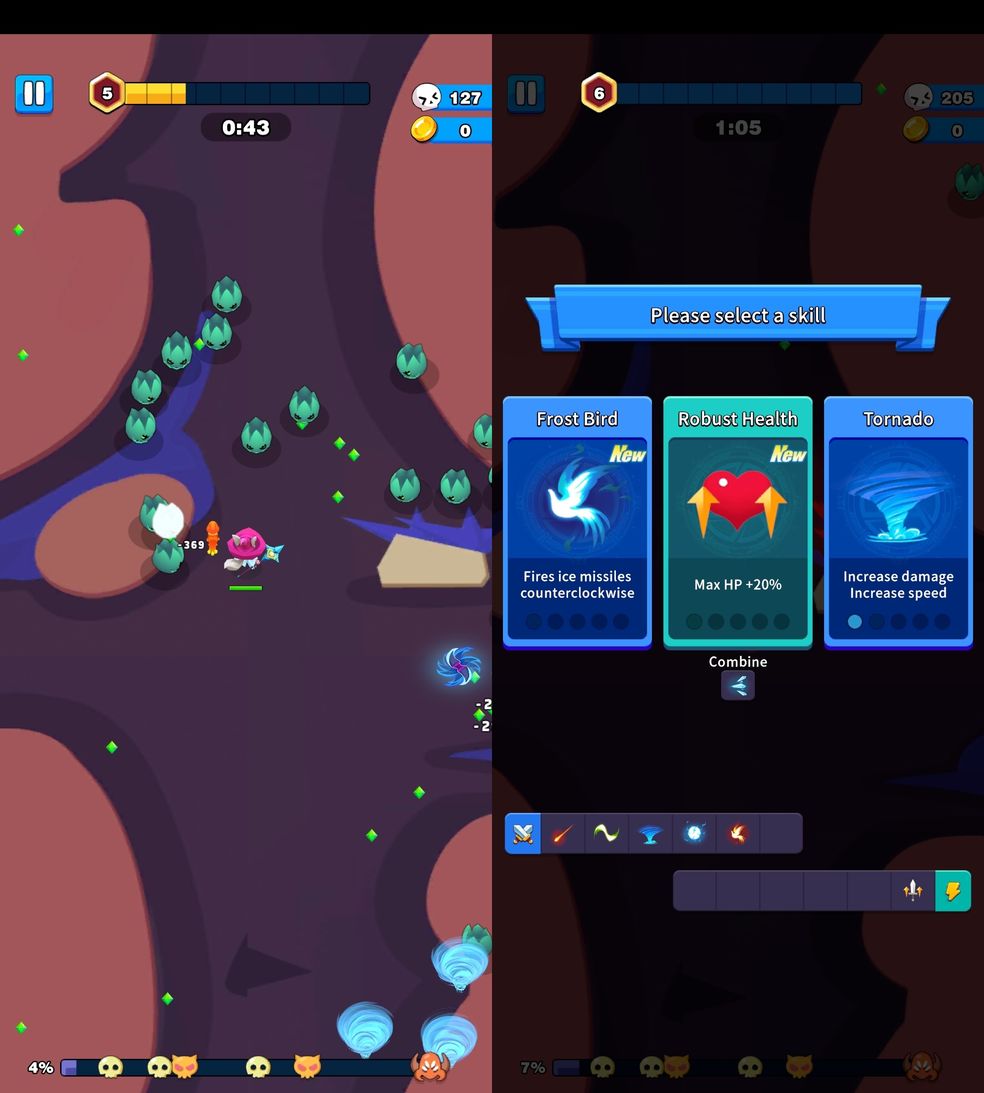 All in all, Lonely Survivor has the same shortcomings as any of the more free-to-play monetization-focused Vampire Survivors clones, but it handles that monetization more elegantly and feels less like it's punishing players who won't pay real money.
Despite its generic name, the best of the more monetization-heavy horde games is definitely
Survivor.io
. This game feels like the model for the previous three I've listed; it does everything each of those titles does, and in most cases it does it with more flair and style. For one,
Survivor.io
features a ton of variety in its levels. The game currently boasts a whopping forty stages, with more being added all the time.
239093
Yes,
Survivor.io
also makes use of all the microtransaction tricks. There's monthly passes for increased rewards, but missing out on those rewards doesn't feel especially painful. There's ads to get some bonuses, but it also regularly gives out free bonuses first, so if you're really not in the mood for sitting through ads, you'll still get something. And there's an endlessly long grind to power up your cute little character, but that grind is represented via a fun Diablo-style loot system, where new equipment is doled out all the time and can be upgraded and merged together for constant improvement.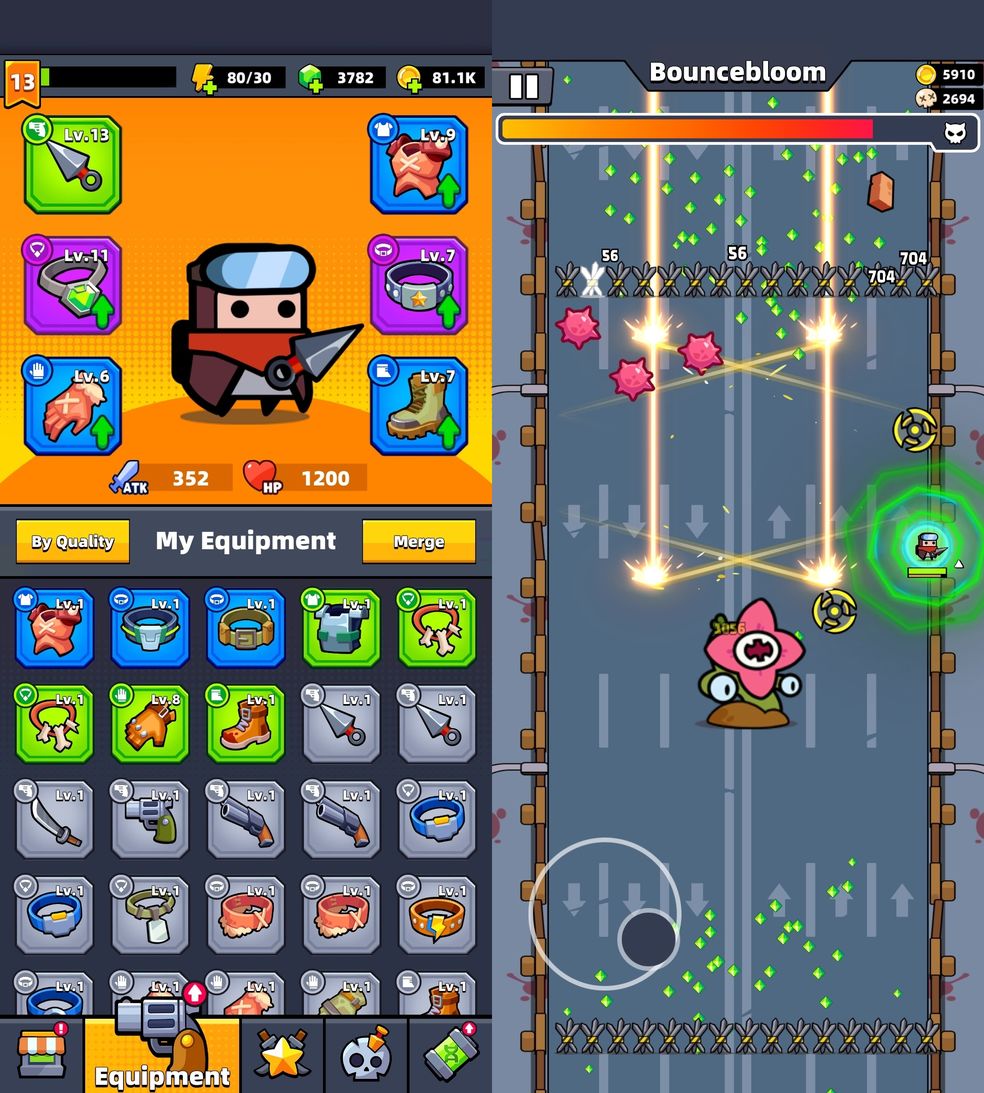 Speaking of that cute little character,
Survivor.io's
best feature is its slick, cartoony look. It's not like there's a ton of detail in the graphics or anything, but the player character is simple and emotive, and the enemies are a flavorful mix of zombies, robots, bugs, slugs, anthropomorphized plants, and more. The arsenal you bring to bear against these baddies has more of a modern military vibe—think rocket launches, molotov cocktails, EMP grenades, and so on—and the game regularly unlocks new toys to play with as you work through its many levels. Of everything on this list, this is the one I can see myself sticking with the longest, depending on how developer Habby chooses to expand it and how heavily they lean into further monetization.
The four games I've mentioned so far are all totally solid and will provide you some Vampire Survivors thrills on the go. But what if you're looking for something that's less designed around free-to-play? What about just paying for a game like with Vampire Survivors itself?
Good news! Developer Erabit Studios has delivered a fantastic mobile iteration of
20 Minutes Till Dawn
, itself one of the most well-liked horde games on Steam besides Vampire Survivors itself. 20 Minutes Till Dawn employs a gorgeous green-and-red aesthetic that gives it a very stark style. As the name suggests, your goal is to survive a mere twenty minutes using just your guns and your wits to ward off the encroaching forces of darkness. And you can purchase the full game for just $2.99.
234986
It's worth noting that 20 Minutes Till Dawn is almost definitely the most difficult of all of the games on this list, if only for one huge design choice: Unlike most horde games, there is no auto-fire here. Each of the game's seven primary weapons comes with its own ammo size and reload speed, which means you have to choose when to fire by tapping a fire button on the right-hand side of the screen. Some folks have taken to calling these types of games "single-stick shooters," but this one is absolutely a dual-stick title.
Because of its slightly more demanding mechanics and a more complicated series of skills and upgrade paths that require careful choices, 20 Minutes Till Dawn isn't quite as pick-and-play friendly as the other games of this ilk. The tradeoff, though, is that there's a much higher skill ceiling in this game. Learning the feel of different weapons, the patterns of enemies, and the best upgrade choices in each run can lead to hugely successful and satisfying runs. And the game's unbelievable fifteen levels of difficulty settings play into that focus on skill over spectacle.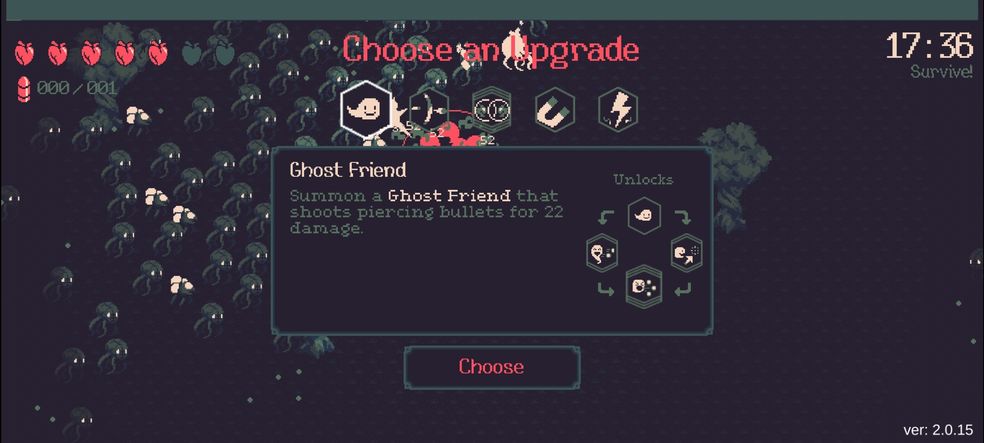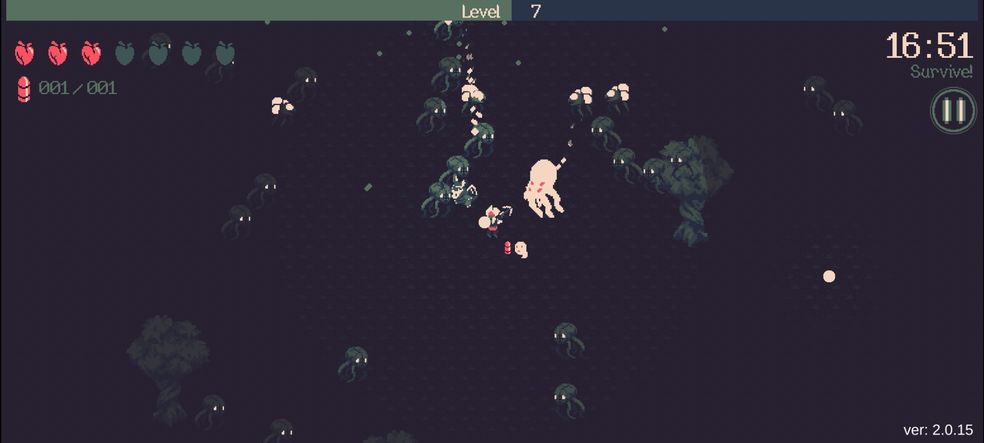 Released all the way back in 2019, Magic Survival has received over five million downloads, and it deserves every one of them and more. Though the art style is simple—most of the enemies are black or red blobs, and the player character is just a vaguely wizard-shaped scribble—but the gameplay is as perfectly tense and utterly addictive as Vampire Survivors itself.
180280
What Magic Survival lacks in unlockables and long-term character progression—though it certainly has some of those—it makes up for in just how balanced, effective, and satisfying each spell type feels. And though you can't unlock vastly different character types, there are multiple races to choose between that have their own small bonuses (increased experience gain for humans, increased HP recovery rate for elves, and so on). There are also twenty-four starting classes to choose between, which mostly just change what abilities you start with, but that's enough to provide some flavor to each run.
I have more to say about Magic Survival, but I'm going to save it for a full review next week. But needless to say, if you haven't yet tried out Vampire Survivors and are wondering what the buzz is all about, there's no better place to start than the one that inspired the Steam sensation. And if you want to dig in deeper from there, any of the six titles I've gone over here should provide plenty of enjoyment.
💬
Have you been sucked into the Vampire Survivor phenomenon yet? What's your favorite game of this type, or are you just sticking to the original so far? Did I miss any horde games that you think I should check out? Let me know in the comments!