Fortnite Crew - The Ultimate Subscription Offer & FAQ
Introducing the Fortnite Crew - the ultimate subscription offer for can't-miss Fortnite Content.
-The Battle Pass for Season 5. Yours to keep
-An exclusive monthly Crew Pack
-1,000 V-Bucks each month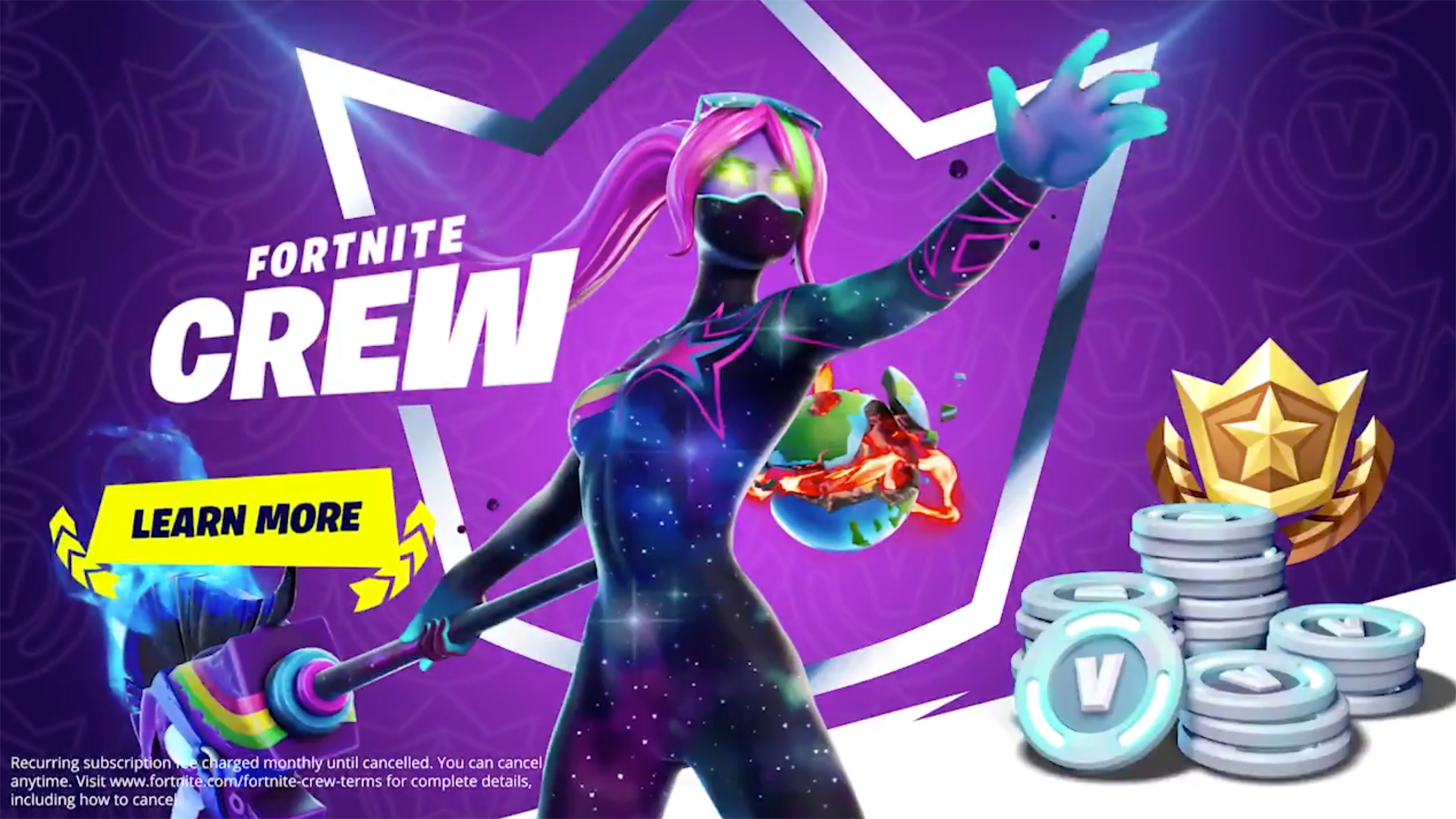 Q: ONCE I'M SUBSCRIBED, HOW DO I GET MY ITEMS EACH MONTH?
A: Your Subscription is associated with the platform on which you purchased it (your "Primary Platform") until it is canceled and is not transferable. Be sure to choose the platform (e.g., Xbox, PlayStation, Switch) you purchase your Subscription on carefully. You'll be able to access the items you receive from the Subscription across different platforms, but the V-Bucks you receive may not be redeemable on other platforms. You must log into your Primary Platform each monthly subscription period to access your Subscription Content.
Q: RE MY V-BUCKS BOUND TO THE PLATFORM I PURCHASE THEM ON?
A: V-Bucks purchased on PlayStation or Nintendo Switch cannot be spent on other platforms. Any Fortnite content you buy with your V-Bucks will be available on every device linked to your Fortnite account, regardless of which device the content was bought on.
Q: WHAT'S IN A CREW PACK?
A: Monthly Crew Packs always contain a new Outfit along with at least one accessory. All items are exclusive to Fortnite Crew members.
Q: WHAT DOES IT MEAN THAT CREW PACKS ARE EXCLUSIVE?
A: Crew Packs and the items they contain are only available to Fortnite Crew subscribers. Previously released items may be made available again to Crew members at a later date. They will never be sold to non-Crew members or given away to non-Crew members.
Q: HOW CAN I PURCHASE THE FORTNITE CREW SUBSCRIPTION?
A: The Fortnite Crew subscription can be purchased directly from the Item Shop or Battle Pass purchase screen.