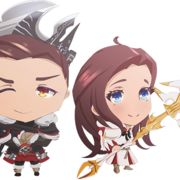 TapTap Creator
ID: 444696171
Blue Archive in 2023: The Shocking State and Critical Growth
New MMORPGs Launching in December 2023 | What MMO Should You Play?
6 INSANE NEW GACHA GAMES COMING IN DECEMBER, 2023!
WHY IS NOBODY TALKING ABOUT THIS NEW GACHA?
THE END OF TOWER OF FANTASY.. AND A NEW BEGINNING? TOWER OF FANTASY 2?
Unironically, 2023's Most Unique Action MMORPG Launching Soon™
MMORPG News: Blue Protocol DELAYED | Tarisland & Perfect New World BETA | Tower of Fantasy
BAD NEWS FOR ZENLESS / WUTHERING WAVES? | GACHA'S SHUT DOWN | NEW GACHA'S ANNOUNCED!
THE END OF THE GACHA GENRE? THIS DOESN'T LOOK GOOD
下一页