[Dev Blog #7] Infinite brilliance awaits, closed beta begins on Jan 18th
We've shared plenty of design decisions and ideas through our previously posted developer diaries. Now, we'd like to share some extremely exciting news - the closed beta for 
Torchlight: Infinite 
will begin on January 18, 2022!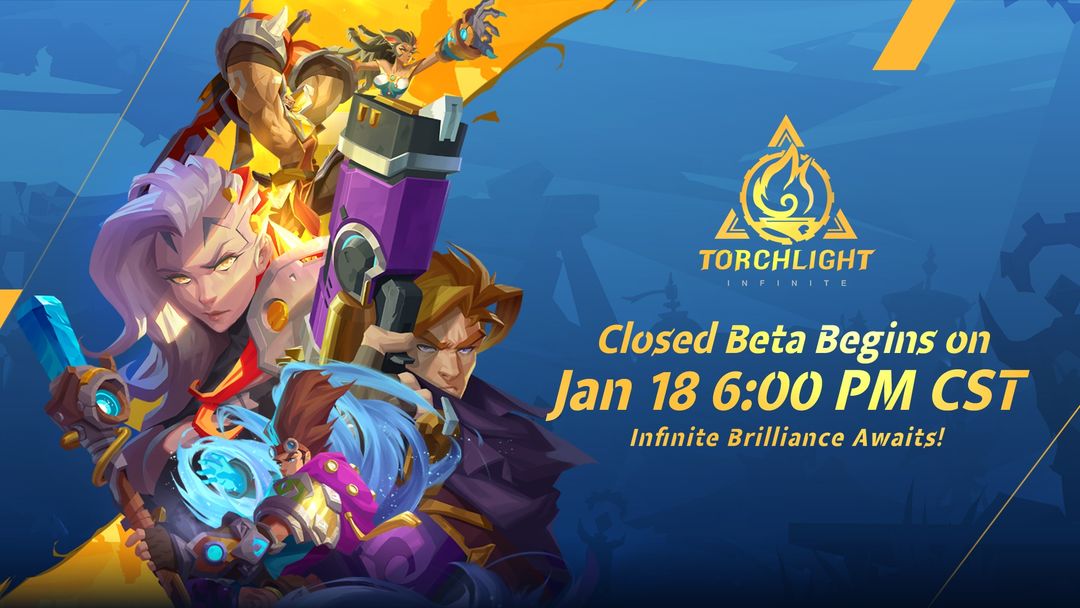 -
Available regions
: USA, Canada, Australia, and New Zealand
-
Platform
: TapTap exclusive
- 
Beta schedule
: Begins January 18, 2022 at 18:00 (CST) and lasts for an estimated 6 weeks. The beta may be extended based on results and player feedback.
- 
Installation requirements
:
             - CPU - Snapdragon 660 / Exynos 8890 or faster
       - RAM - At least 3 GB RAM
- 
Emulators not supported at this time
- 
Torchlight: Infinite
on Android requires a 900 MB download and a complete installation of 3.3 GB. On iOS devices, the game also requires 3.3 GB of free storage. To ensure optimum performance, we recommend that players have at least 10 GB free for downloading, unzipping, and installing Torchlight: Infinite.
- How to join: We have already sent invitations via email to a portion of players who preregistered for the closed beta. More invitations will be sent to players as server capacity increases. Please note that if the amount of closed beta players hit capacity, we may close sign ups for this closed beta phase. 
[/b]- 4 heroes, 24 talent trees, nearly 200 skills, and roughly 250 pieces of Legendary gear;
- A level cap of Lv. 99 and 3 chapters of main quests to make reaching Lv. 50 an achievable goal;
- Netherrealm Challenges unlock after completing main stories. The Neatherrealm includes 7 difficulties, 5 areas, and 1 Boss per area. In addition, 1 ultimate Boss guards the final gates of the Netherrealm;
- Other features including Trading, the Season Guide, Pacts, Merits, Crafting, Enchanting, and more.
- 3 special traits are planned for every hero, however only 1 trait will be available for each hero during the closed beta;
- Although 3 chapters of the main questline are available, only the first 2 have completed stories.
During the closed beta, the third chapter is accessible without plot or dialog;
- While there exist the reuse of maps and monsters in Netherrealm stages, the affixs of each stage are actually different, so do the rewards;
- A completely free trading house may take time to stablize prices. Please be careful when trading items to other players to avoid unintentional losses;
- As this is the first large-scale test of Torchlight: Infinite, we may frequently change features, skill values, etc. We appreciate your patience and understanding.
We are currently completing final preparations for the closed beta and aim to open downloads at the expected date. We can't wait to hear about your experiences in-game and look forward to any feedback you may have. Please follow the Discord link below and join the
Torchlight: Infinite
 community. Thank you!