Flash Diary #9 | A cowboy and detective fusion (hero design)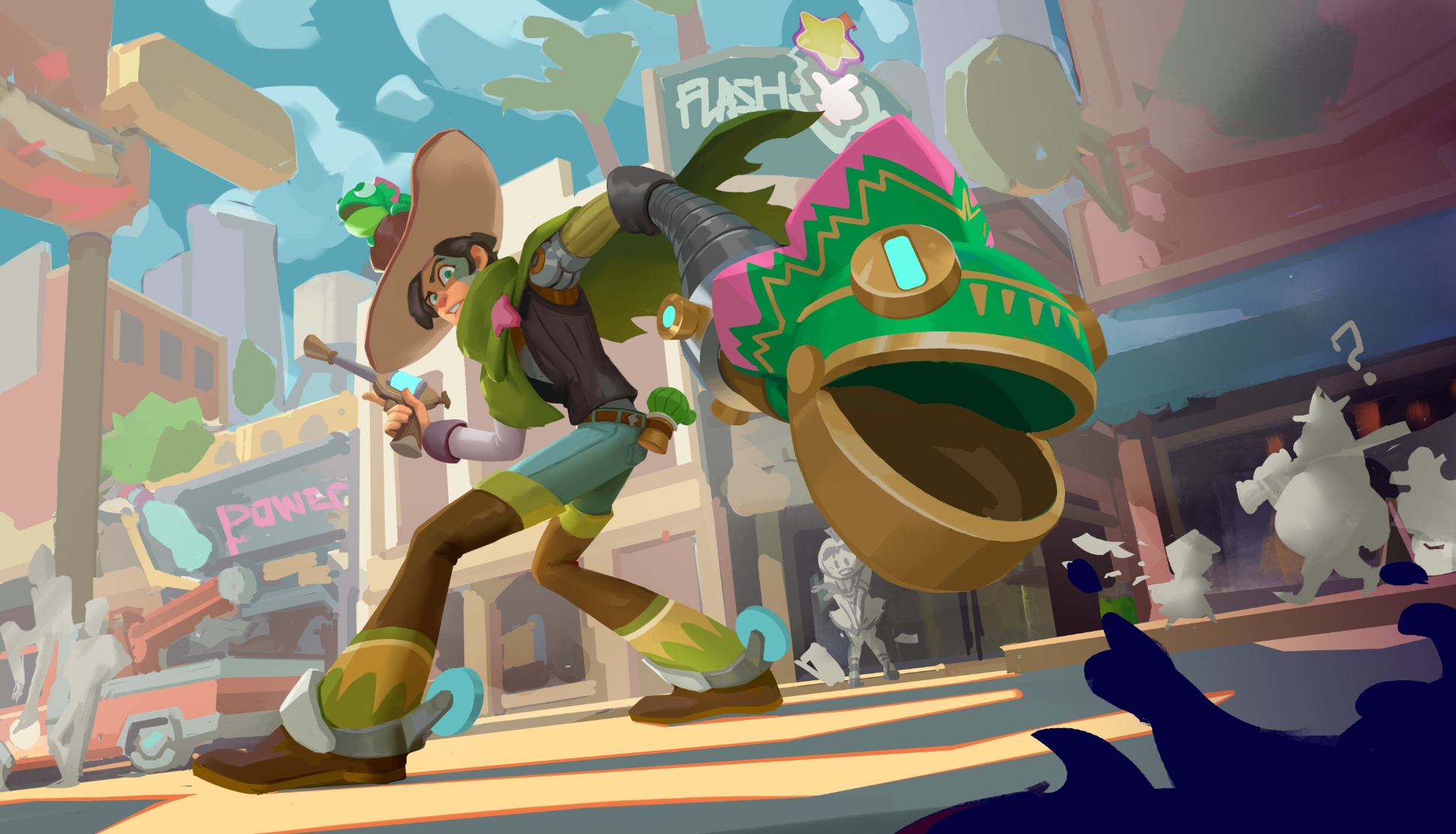 Derek, the bounty hunter who has made his move in the Metropolis power outage, will make
his debut in the new season on June 23rd
. So how was this meticulous cowboy/detective created? Now let's find out!
Truth be told, we meant Derek to be a cool, taciturn revenger at the very beginning (which, of course, is rather different from the final product). The skill designers had a medium-range and long-range gun-toting character in mind able to use all kinds of items. In fact, the inspiration back then was the famous vampire hunter, Van Helsing.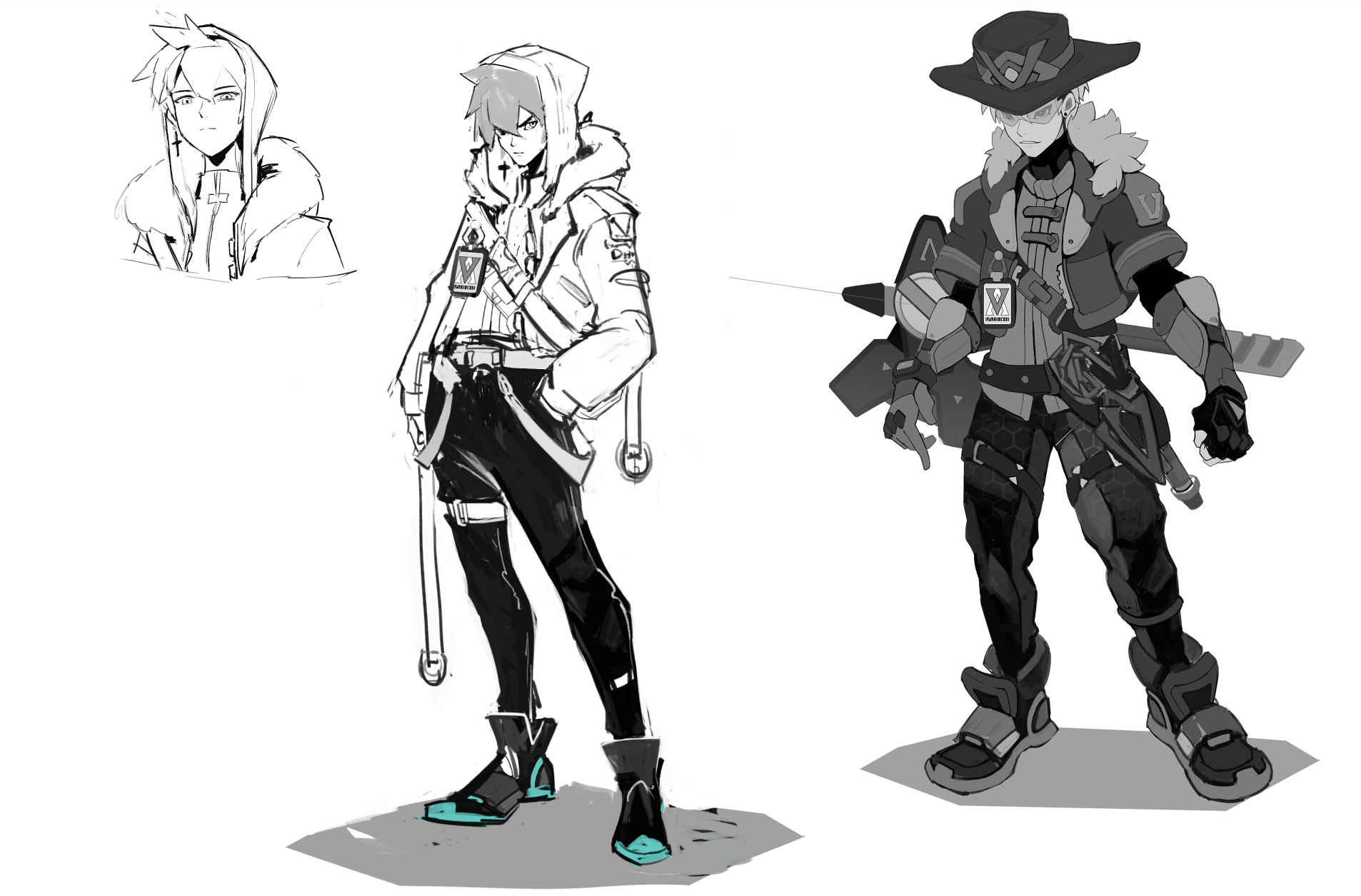 (The super-early design ideas based on Van Helsing)
Several possible ideas were developed on this basis, one being a traditional demon hunter but made a bit younger, one being a modern demon hunter in suit sporting high-tech items, and the other being a handsome werewolf in trench coat (which is also a staple character in vampire tales).
Yes, you guessed it.
One of the design ideas turned out to be another character, which is none other than Mr.5!
In addition to guns, this double agent, who has also been uncovering the mysteries in Metropolis, has various kinds of offensive items. Like Derek, Mr.5 is another character inspired by Van Helsing.
(An early design direction of Derek where he uses holy water as bullets, not unlike the gel bullets in the final version)
While acting as a source of inspiration for Mr.5, the Van Helsing characterization has evolved into the Derek as we know him today. Deviating from the initial tenebrous representation, the designers opted for a buoyant, jaunty cowboy image. On top of that, we wanted to divest the character of the retro feelings by imbuing high-tech elements into the design. Therefore, Derek has turned out to be a meticulous cleaner.
Just as the holy water used by a vampire hunter can also be a sort of cleansing agent, Derek will wash his opponents clean with his gel bullets brimming with detergent. In that vein, we have added a robotic arm for him which acts as a vacuum cleaner together with the little lizard Dyson, a lively character whose name you may have heard of from elsewhere. (Concept design of Derek)
That's how Derek came into being! As a bounty hunter, Derek is able to give criminals thorough wash-outs in addition to fulfilling all sorts of tough missions, saving much trouble for his employers.
The original skill design for Derek, which has been kept, enables him to have extraordinary medium-range and long-range attacks, especially with the fourth gel bullet, which is a kind of power shot capable of securing victory by inflicting huge damage. At the same time, Derek has many items he can draw on, including his gel bullets, vacuum arm and his down special of Lizard Grenade, which is based on his pet, Dyson.
But there is one notable difference from the original design. The designers had meant for the cowboy to be easy to control. But since this feature was given to Mr.5, Derek now requires quite a lot of practice before you can control him with finesse.
You will be able to obtain this character in the new Party Pass following the June 23rd update. Try your hand at this powerful cowboy detective!