Sausage Man 12 Jul Server Maintenance Notice(Server Online)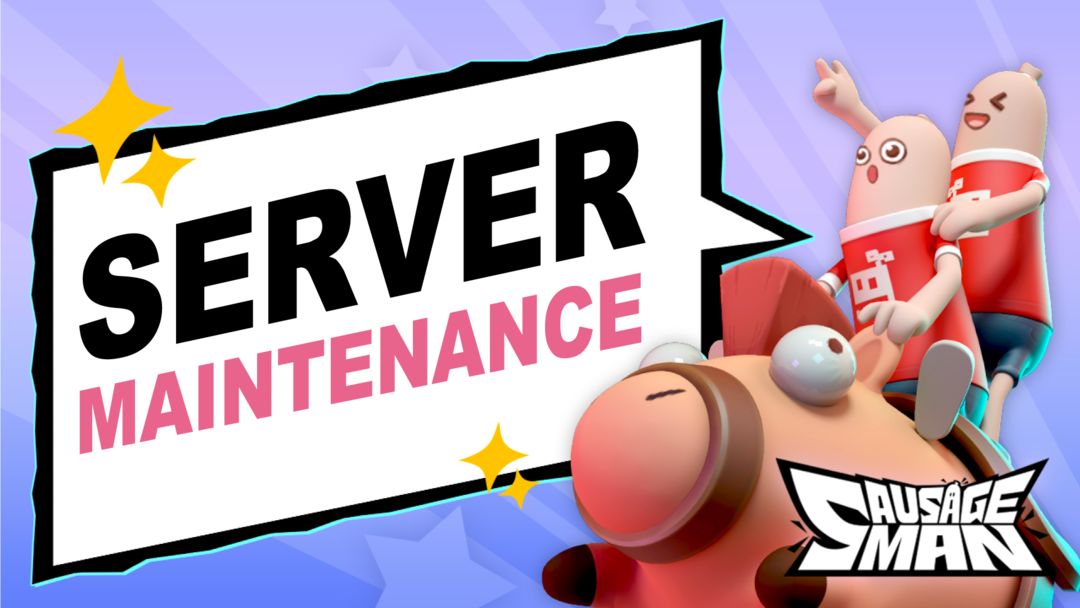 We apologize that the scheduled server maintenance has been canceled due to technical issues. We have recalled the notice posted on the evening of 8 Jul.
Thank you for your understanding and support!
The technical issues have now been resolved. 
We will be having maintenance during the following period, in which the game will be temporarily inaccessible.
Since the previous maintenance was not successfully carried out, everyone will receive double the rewards as compensation after this round's maintenance. 
[b][Estimated Maintenance Time]
12 Jul 2021, 08:00 - 09:00 (GMT+8)
 Update: Our team is still working really hard, we sincerely apologise that the maintenance will be extended to 12:00 (GMT+8).
* Maintenance may be delayed due to unforeseen circumstances.
* As the game server will be temporarily unavailable during the maintenance period, please plan your gaming time properly so that your gaming experience will not be affected.
Added Thai language. The language option can be switched in-game after the maintenance.
Partial Indonesian compatibility optimization
1. Fixed the text error when upgrading to Premium Season Pass after activating Season Pass.
2. Fixed the issue where loading is continuously looping and stuck at 48% in the battlefield.
3. Fixed the abnormal UI display in Festival of the Goddess Colorful Supply Box items.
4. Fixed the issue where the Season Pass Daily Mission and the Weekly Activity interfaces overlap.
5. Fixed the chatting issue between friends.
6. Fixed the issue where text chat is unavailable when on the battlefield.
Remember to invite your buddies to visit Sausage Island after the server reopens!
Sausage Man Operations Team