[ Dev Blog #15 ] Second Closed Beta Test April 24th 21:00 CST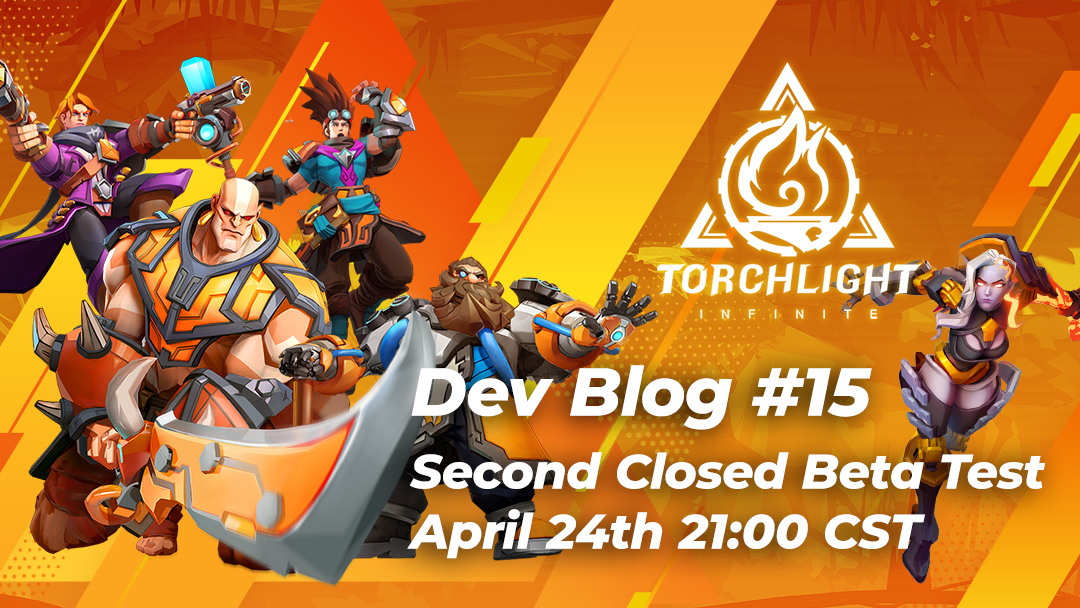 Torchlight: Infinite's second
Closed Beta Test
will open on
April 24th, 21:00 CST
. 
We are aware that Torchlight fans from around the world are all been patiently waiting, that's why we are opening this beta to
all regions
! We encourage all players to try their best to communicate in English in the in-game chat channel as well as in our SNS communities so we won't miss any bit of Amberon slaying fun.  
For Android users, simply pre-register on the TapTap game page, once the download is ready, a system message will bring you to start the download process. (Remember to log in to game with your TapTap id so you don't lose your game progress!)
For iOs users, please pre-register on the TapTap game page, and pay close attention to our SNS platforms, we will be posting
beta invite events soon
! 
Installation Requirements
• AndroidCPU - Snapdragon 660 / Exynos 8890 or faster
      • RAM - At least 3 GB RAM
• 
Emulators not supported at this time
See if you could spot the differences?
• Item pick-up are redesigned into clearer and faster animation, players can now identity rarity on the ground by colour-coded names and a text frame; 
• Talent tabs are thoroughly remodelled for clarity and build-ability featuring only 2 key labels only; 
• More skills are available coupled with increased support skills for more variations; 
• Complete rebalance on battle capacity featuring new bosses, spawns, map attributes; and as reported from last beta abnormal enemy number to battle area ratio in narrow paths is now fixed;
• Fortified Netherrealm challenge with the all-new Timemark 8, and re-designed difficulties and map attributes for all the pre-existing Timemarks.
New Features in this Beta 
Previously introduced in
Dev Blog 13
, a major addition in this beta is the first-ever
Torchlight Infinite
's seasonal expansion
Dark Surge
. This new gameplay mechanism is designed in granting players the thrill to freely launch waves of infected Amberons turning any part of a map into heated battles!
Forbidden Craft
will give unbridled corrosion to all gears, yes, it would even corrode the legendaries. Yet, it might grand your beloved gears some tier-breaking upgrade or nothing at all. It's truly a game of luck! 
Another exciting challenge is the tower challenge filled with deadly enemies and bosses in position only for the bravest hunters. Each level is a brand new battle packed with even stronger Amberons in this
Path of the Brave
. For more details read
Dev Blog 13
.
To learn from the best, and to share thriving builds, hunters can now browse top builds in
Hero Ranking
to learn all the details. Perhaps, to fight to get on the ranking as well!
Chapter 2 of the main quest fully reveals in this beta, hunters will learn more about the land of Leptis and Torchlight's rise. Story fragments will be featured across our SNS platforms once the Beta starts. We hope this will bring our hunters closer to each other for a reinforced Torchlight force. 
When you travel deeper to carry on your Torchlight mission... Finding out all the dark intel you got... Test subjects? What test subjects? This strange label gives you more chills than hearing a huge herd of Aemberons rushing to you. 
Numerals community events will debut once the beta starts, so remember to follow us on our SNS for extra Torchlight fun! 
Follow us so you don't miss anything from Torchlight: Infinite👇